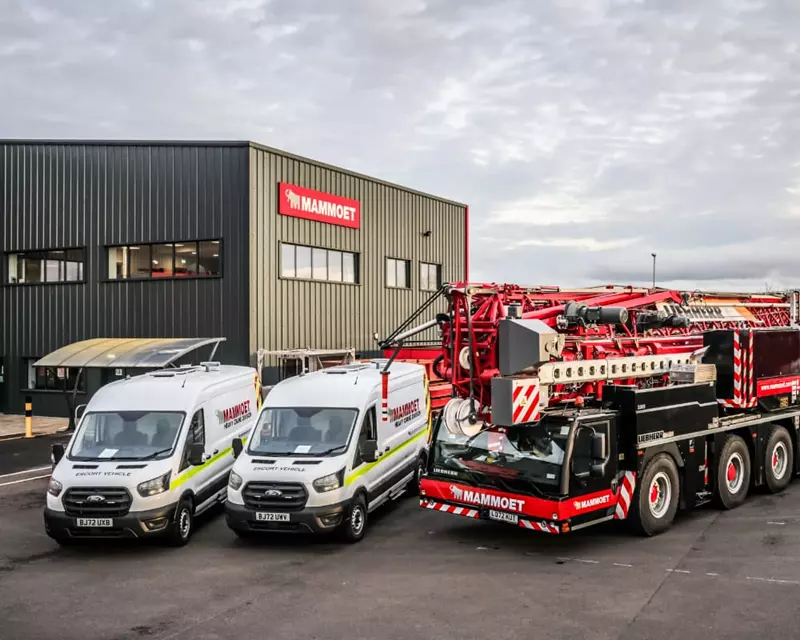 Sector:
Civil Engineering

Power Grid

Mining & Metals
Expertise:
Heavy lifting

Crane lifting
Benefits:
Flexible operations

Optimized schedule
By expanding the fleet Mammoet created 10 new jobs in the region with many more opportunities being offered nationwide to support the delivery of landmark projects recently backed by the UK Government.
Mammoet has seen demand for its world-leading heavy lifting and transport services increase significantly as the UK commits to meet its net zero carbon emissions target of 2050. This has resulted in a tranche of wind, nuclear, carbon reduction and other projects coming online to drive the energy transition.
To facilitate the delivery of these key projects, components of varying size are typically installed via the kind of specialist heavy lifting, transportation equipment and expertise in which Mammoet leads the world. Mammoet is active across all construction sectors with 8 different facilities in the UK; this new investment in a range of cranes will allow Mammoet to offer these services to a growing list of clients and expand the number of skilled jobs it offers.
"Mammoet UK has experienced significant growth and we are proud to invest in additional cranes and personnel to support our customers' needs," said Mark Sadler, Managing Director of Mammoet UK. "With these additions, we can continue to deliver safe and efficient lifting solutions that meet the growing demands of our clients across the UK."
Cranes including the Liebherr LR1300SX, Liebherr LR1600, Terex-Demag CC2400, Liebherr MK140 and Liebherr LTM1110 are among the additions to the fleet, which are available for nationwide use, offering increased lifting resource to the industry.
In addition to cranes, Mammoet UK will also continue to deliver projects using the company's global fleet of ring cranes, large heavy transport fleet, and special devices such as jacking and skidding equipment.
Mammoet has been providing heavy lifting and transport solutions in the UK for over 40 years. The company has a long-standing reputation for delivering complex and challenging projects with safety and efficiency at the forefront.