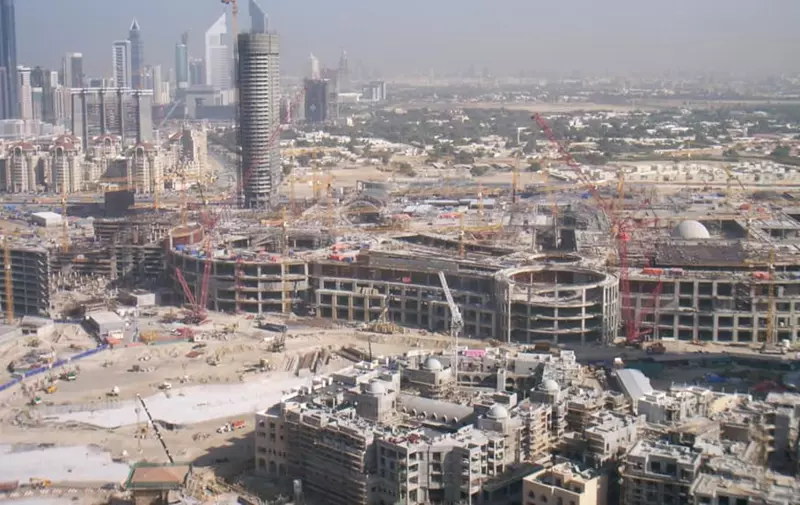 Expertise:
Heavy lifting

Crane lifting
Mammoet's concentrated collection of heavy-lifting cranes in Dubai.
Mammoet, the world's largest service provider specializing in engineered heavy lifting and transport, has the highest-ever concentration of its high-strength cranes currently working in Dubai.
The Dubai skyline is the tallest skyline in the world, growing from a fishing port to a mega-structure metropolis over the space of just a few decades. The development and construction work is continuing apace in this dynamic emirate, with stunning architectural additions to the sea of skyscrapers appearing every year.
Such a wealth of construction work requires a vast amount of heavy-duty equipment to build the record-breaking structures which grace the developing city. Alongside the skyscrapers, another feature of the Dubai skyline which has been visible for the last few decades, are the many cranes lifting the municipality's infrastructure into place.
Executing various projects over the years, including the Dubai metro line and Dubai Mall, Mammoet cranes have been part of the city's skyline for some time. Currently, there are four of Mammoet's super heavy lift cranes performing various complex lift jobs in Dubai. The cranes' lifting capacities range from a 600-ton crawler crane to a mega-sized 5000-ton ring crane. This is the only time in the history of Mammoet in Dubai where so many heavy lift cranes have been concentrated in the country, all operating at the same time.
Mammoet is working on projects like the construction of the presidential suite for the Viceroy Resort at Palm Jumeirah Island. For this operation Mammoet used a CC8800, 1600-ton crane, with an LR1600, 600-ton crane, to perform a tandem lift. This maneuver, like all the operations Mammoet carries out in Dubai, required careful and detailed planning, attention to detail, and the highest of safety standards. To lift the components of so many unique and architecturally exciting structures into place requires expertise and highly specialized equipment.
In addition to the Viceroy Resort project at Palm Jumeirah, Mammoet is working on the Habtoor City project and other mega-structure projects in Dubai. One of these projects requires both the mega-lifting PTC200 ring crane, which can lift up to 5000 tons, and the LR13000 crawler crane, with a capacity of 3000 tons. There are very few cranes with this kind of capacity available in the world, and having so many of them working in Dubai at the same time enhances an already spectacular skyline.