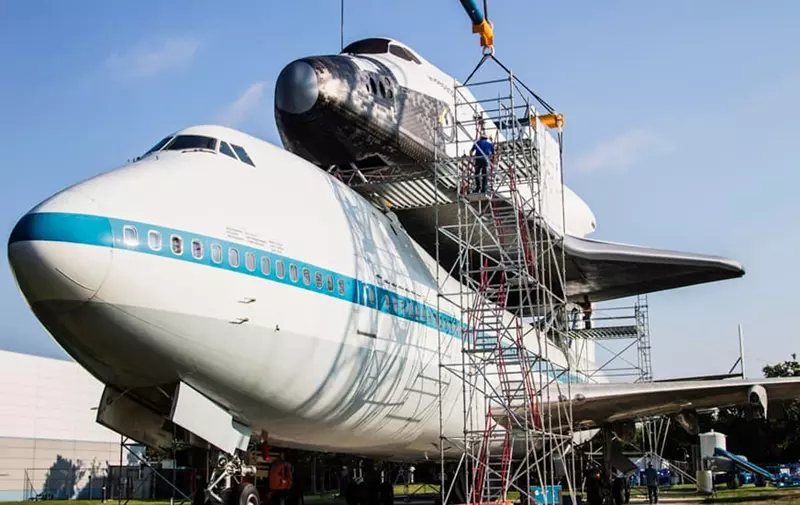 Expertise:
Heavy lifting

Crane lifting
Benefits:
Record breaker

Increased safety
Mammoet lifted a new attraction at the NASA Space Center Houston to a greater height.
As thousands of eager onlookers watched in amazement, a 250-foot tall Mammoet crane lifted a 122-foot long space shuttle replica three stories high to its resting place atop the original Shuttle Carrier Aircraft (SCA) NASA 905, a Boeing 747. The Boeing, with its unique piggyback cargo, ultimately will become a destination for visitors from around the world.
"What is so spectacular here is that we were able to contribute to a piece of history." Pierre Mille, Sales Manager, Mammoet USA South, Inc.
The delicate lift to the crown of the 63-foot 747 took about 40 minutes. The crane lifted the replica to a height of 150 feet before lowering it onto the back of the SCA, sitting on a 15-inch concrete foundation. "What is so spectacular here is that we were able to contribute to a piece of history," said Pierre Mille, Mammoet USA's sales manager.

"The lift was challenging because of the awkward weight distribution of the replica and the safety concerns for the thousands of spectators", Mille said. "A space shuttle, even a replica, is designed to go straight, so it catches a lot of wind when lifted sideways. But we engineered the lift carefully and were well prepared for this effect. With our crane, we were able to set the space shuttle exactly where it needed to be. We also took every precaution to ensure the safety of the spectators. Our safety manager was present, we used our protective equipment and we blocked off the area so no one could get hurt. We consider the Space Center Houston one of our most important and educational exhibits, so for us, this was a chance to give something back to the community. That is why we decided to carry out this lift for a token price."

The crane was assembled at the site a week in advance. It took only 1.5 days to assemble it and another 1.5 days to disassemble it after the lift was completed.

"The experimental exhibit will feature the remarkable history of the shuttle program and its role in shaping current NASA initiatives to explore asteroids, the moon, Mars, and beyond," according to a statement on the Space Center Houston website.