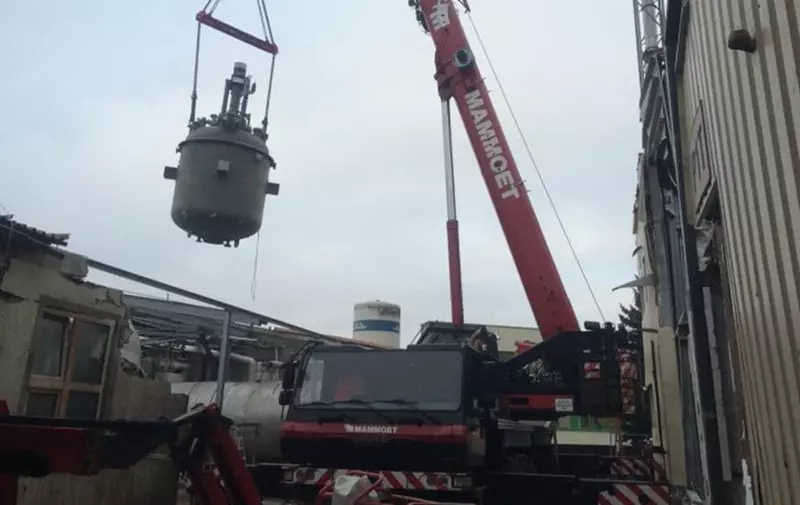 Expertise:
Heavy lifting

Crane lifting
Benefits:
Optimized schedule

Reduced disruption
This avoided the ship to go into a dry dock which saved the ship owner time and money.
In the port of Antwerp, at the end of May 2012, Mammoet successfully completed the challenging project of changing a crankshaft of an engine of a container vessel while afloat.
Mammoet started by visiting the ship owner with the customer. After that Mammoet liaised closely with our customer to develop the most efficient method. Finally, the shipowner awarded the job to us. The key feature of this project was the customer's familiarity with this type of engine, and Mammoet's know-how. Together they enabled us to develop a safe and efficient method.
Due to technical problems, half the crankshaft had to be exchanged. This half crankshaft was 8 meters long and had a diameter of 3.5 meters. It weighed 115 tons and could only be reached after other engine components had been removed and the A-frame had been jacked up.
After thorough preparations, Mammoet jacked the engine A-frame up by about 3.75 meters. A unique feature of this project was to insert support beams through the hatches and use those for the jacking operation. Once the A-frame had been raised strand jacks were used, with wire ropes passing through the engine cylinders and in front of the crankshaft, to lift the crankshaft clear of its bearings. Next, a skidding system was installed with saddles to receive the half crankshaft. The crankshaft was then skidded to the cargo hold and could be replaced via this hold. Two AC700 cranes were used to lift the old crankshaft out and the new one in. After that, all the other operations were carried out in reverse order.
This was a great project, which drew on all of Mammoet's strengths. The commitment of everyone involved in the project ensured its successful completion and another satisfied customer.