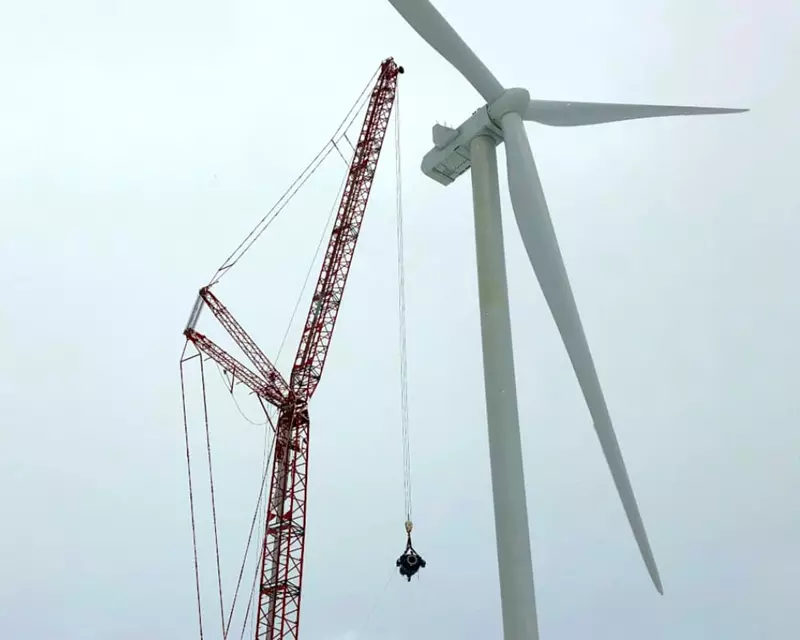 Expertise:
Heavy lifting

Heavy transport

Crane lifting
Benefits:
Rapid response

Increased safety

Protected infrastructure
Work was completed quickly and at short notice, despite access challenges.
In early 2020, Mammoet was contracted for the heavy lifting and transport of a gearbox for the Whitla Wind 1 project in Southern Alberta, Canada. The maintenance was required following the full failure of a gearbox in one of its turbines.
Due to a long-standing and trusted relationship with Vestas in the region, Mammoet was awarded the project after a strategic bidding process. Upon walking the site prior to the equipment arriving, supervisors quickly determined the unstable footing conditions due to unseasonably warm weather the week prior.
"We were working through some serious weather difficulties. High winds and sub-zero temperatures", said Garrett Brophy, Crane Supervisor at Mammoet Canada Western. Despite these challenges, Mammoet teams were able to configure a building and matting plan that would safely and efficiently mitigate the conditions.
Using a CC 2400, the 38t gearbox was successfully replaced. From the time Mammoet was awarded the project to execution and demobilization, it took the teams only two weeks; with the lift, in particular, taking just a day and a half to complete.
As this was the first V136 exchange in the region, a collaboration between Vestas and various Mammoet teams played an integral part in completing this project safely and ahead of schedule. This type of 'taxi work', whereby the crane and operator are hired out together, is common out of Mammoet Canada Western, with various jobs similar to this one occurring regularly whether in the renewables sector or other industries such as petrochemical, or civil construction.
Whitla Wind 1 is comprised of 56 wind turbines, each with a hub height of 105m and a blade rotor diameter of 136m. The V136 is a new platform in North America, with Whitla Wind 1 being the first site in Canada to use these turbines. This farm alone is capable of generating enough electricity to power approximately 67,000 Alberta homes annually.