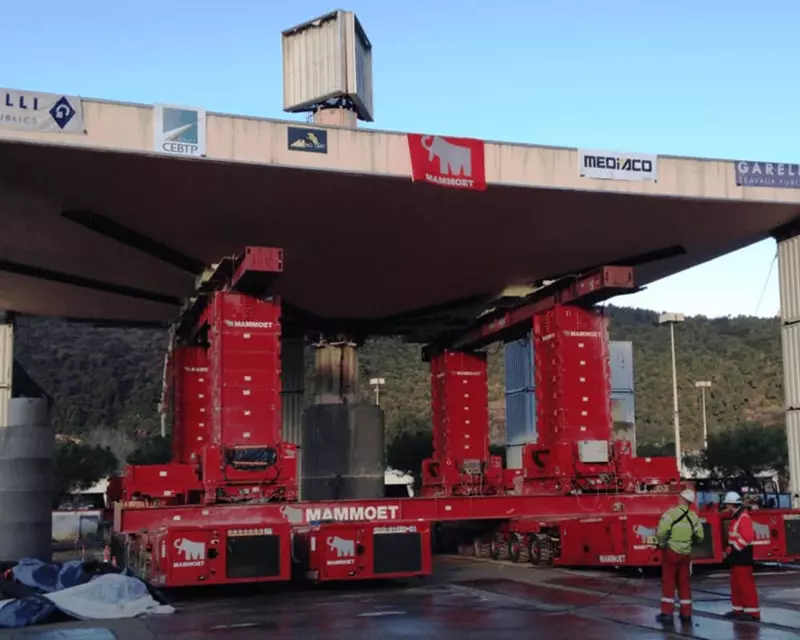 Expertise:
Heavy transport

Heavy lifting

Jacking
Benefits:
Rapid response

Reduced disruption

Increased safety
The fastest way to deconstruct a roof is to just pick it up and drive it off.
On the 5th of February 2014, a 500-ton concrete roof collapsed at the entrance of a Carrefour commercial center in Nice, France. After the collapse, a similar - even bigger – roof section at another entrance was now deemed unsafe too.
Not taking any chances, Carrefour's contractor Garelli called upon Mammoet to have the 25x25-meter roof removed. In a single day, Mammoet put together a plan to lift and remove the roof in one piece and scrap it elsewhere. A time-saving approach that required the entrance to be closed for only three weeks instead of the six weeks of traditional methods.
Carrefour needed a solution to remove the undamaged roof safely, but quickly. Traditional methods of removing such a concrete roof involve using heavy scaffolding to support the roof and demolishing it piece by piece. This approach would require the closure of the entrance for six weeks - causing inconvenience for customers and affecting the commercial operation.
Mammoet decided to do away with tradition and came up with an unconventional approach in just one day. Instead of breaking down the roof on location, Mammoet proposed to put a jacking system on SPMTs, drive it under the roof, raise it and move the entire roof to the scrapping locations in one piece. Mammoet would then jack down the roof onto concrete supports for Garelli to scrap it.
This would require the center entrance to be closed for just three weeks. But while every detail had been meticulously planned, reality threw an unexpected spanner in the works. During the reinforcement of the concrete structure, spilled liquid grout solidified inside parts of the jack-up system, making it impossible to jack down the roof that had already been jacked up.
Mammoet needed a work-around and it needed it fast. Since the roof could no longer come down to the support, Mammoet together with its clients decided to raise the support up to the roof. By building higher supports from stacked containers and a higher concrete colon, Mammoet still managed to get the job done on schedule.
Mammoet managed to half the time the entrance was out of use with its conventional approach. It also used quick on-the-fly re-engineering to stay on schedule in the face of adversity. In doing so, the company minimized both inconvenience for customers and the impact on Carrefour's commercial operation.