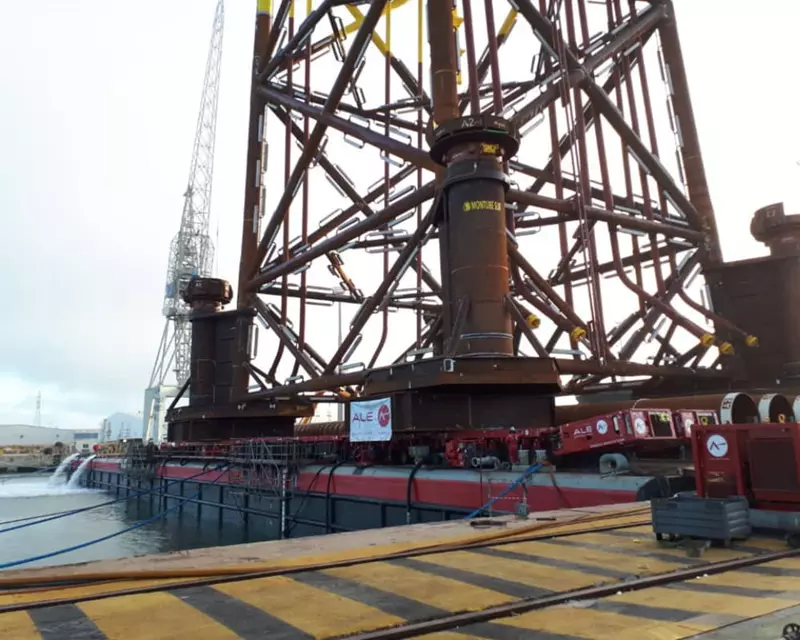 Expertise:
Load-in & load-out

Heavy transport
Benefits:
Increased safety

Reduced disruption

Optimized schedule
The main challenge of the project was the predefined barges, which designated the load to a type 1 load-out, the most restrictive.
For the most effective execution, Mammoet utilized the expertise of its offshore services division to develop a detailed and customized engineering study that ensured a successful load-out on any day of the tidal calendar, enabling the operations to be some of the safest and most well-organized seen in a project of this type.
Prior to the transportation, Mammoet carried out the weighing of the two structures with 16 500t capacity load cells and jacks. Then, the jacket, weighing 2,750t, and the topside, weighing 4,300t, were transported from the fabrication yard to the quayside in Puerto Real, Cadiz, using 144 axle lines of SPMT.
Both transportations were performed using the same methods and equipment with the same configurations, which significantly shortened the project's schedule. Once at the quayside, they were loaded out onto the two vessels and Mammoet performed 16,000m3/h of external ballasting.
The jacket and topside will form part of an electrical offshore substation that will be the heart of the East Anglia ONE project. Set to become operational in 2020, the wind farm will have a capacity of 714MW and will provide clean energy to nearly 600,000 English homes.