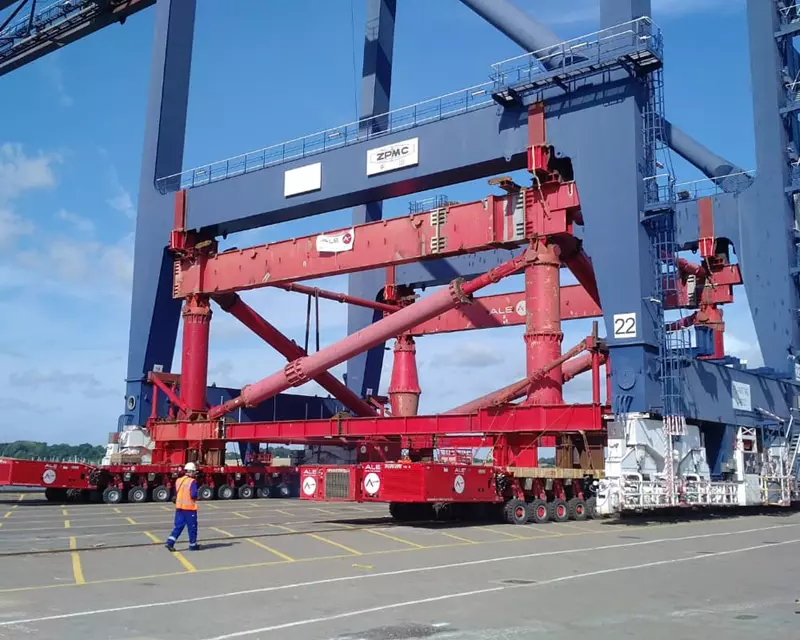 Expertise:
Heavy transport

Heavy lifting

Jacking
Benefits:
Reduced preparation

Reduced disruption
Port of Felixstowe is the UK's busiest container port, dealing with almost half of the country's containerized trade.
It has been undergoing a series of upgrades over recent years, including the construction of additional storage yards and the dredging of 18m berths to accommodate modern container mega vessels.
A selection of the 51 ship-to-shore cranes at its Trinity terminal needed to be heightened, in order to allow cargo removal from this larger, taller generation of carrier. Main contractor ZPMC Netherlands, which specializes in crane upgrades and refurbishment services, selected Mammoet to assist, as its experience in port crane maneuvers would allow it to realize several efficiencies during the project.
ZPMC subsequently oversaw the heightening of ten cranes, five weighing 1,530t and five weighing 1,650t. However, it was not possible to perform the heightening procedure in the cranes' normal positions, as this would impact the productivity of the port.
Therefore, each crane undertook a separate transportation and heightening phase, during the moment of best fit for port management. First, each crane was transported out of the row to a location set aside for upgrades to take place. This was achieved using 80 axle lines of SPMT in 4-file 20 configuration for the lighter crane and 88 axle lines in 4-file 22 configuration for the heavier one.
A custom-designed transport frame was used during each of these maneuvers, which was designed to support the cranes both as they were transported and as they were jacked-up for heightening work to take place. This saved time transferring the cranes between separate support structures during each upgrade procedure.
One by one, the cranes were jacked-up to heights of 6m and 10m, depending on their required final elevation. Mammoet's Mega Jack 800 system in a four-tower configuration was used to perform these lifts quickly and safely while minimizing working at height.
Following the upgrade, the cranes were jacked down and then put back into the row.
This upgrade work means that the port can now accept larger vessels carrying multiple further layers of shipping containers, helping it take further steps to accommodate a predicted doubling in capacity by 2030.
Oscar Ehrlich, Director, ZPMC Crane Upgrades and services commented, "We are again delighted to be nominated as the main contractor for the Port of Felixstowe. These types of projects require a highly specialist approach to deliver an efficient and timely solution. The team at Mammoet integrates perfectly to maximize a successful outcome."