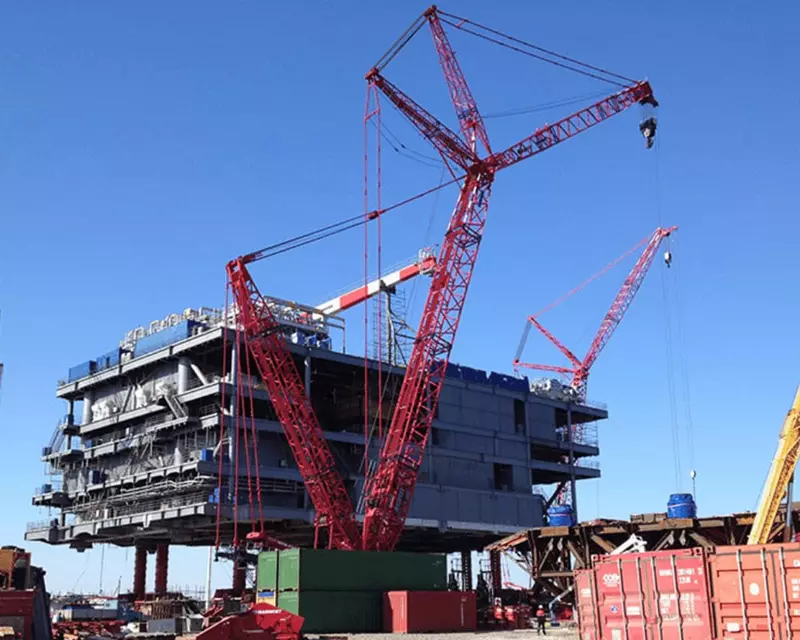 Expertise:
Load-in & load-out

Skidding

Jacking
Benefits:
Flexible operations

Protected infrastructure

Rapid response
QUICK THINKING AND A FAST MOBILIZATION COPE WITH CHANGING CONDITIONS.
The load-out of an offshore oil facility built for the Caspian Sea was scheduled to take place during a period of just four days, the only time the level and flow of the river Volga would allow.
However, the four-day window arrived early – before the platform was fully-built and essential equipment was in position. All calculations and equipment scheduling had to be changed at a moment's notice. Mammoet's ability to act quickly, devise a new plan, and mobilize resources without hesitation ensured the load-out took place on schedule, meeting the new deadline.
A series of four platforms linked by bridges form the hub of the Vladimir Filanovsky offshore oil field, in the northern part of Russia's Caspian Sea. As they are constructed, the platforms are transported by barge along the river to their destination. The changing nature of the Volga throughout the year means it is crucial to perform the load-out at precisely the right time, otherwise, the river's flow and water levels will make transportation impossible. The river conditions were particularly crucial for the Central Processing Platform (CPP), with a weight of more than 11,000 tons.
Before construction was complete, however, the Volga unexpectedly reached its optimum level – which meant the load-out had to be carried out almost immediately, with an incomplete platform. This created challenges for the jack-up, skid, and load-out procedures. Principally, the necessary equipment was not in place and the incomplete platform was almost 20% lighter than the figure used in all the calculations. This changed the structure's center of gravity and, therefore, required a different configuration of the load-out.
Mammoet's team acted immediately to mobilize equipment from its extensive global pool of resources. Engineers immediately re-calculated the load-out and ballasting requirements based on the new measurements. The CPP was jacked up, weighed then mounted on a load-out frame to provide support as it was skidded from the quay, over a link bridge, onto the barge. During the transfer, Mammoet's engineers constantly adjusted the water ballast levels to ensure the barge remained stable.
Mammoet's quick planning and execution ensured the barge with its cargo entered the Volga river within the optimum four-day window. The CPP was delivered to the offshore field where it will eventually be connected by bridges to three more platforms. The client subsequently awarded Mammoet the contract for the load-out of the next platform to join the Vladimir Filanovsky oil field.