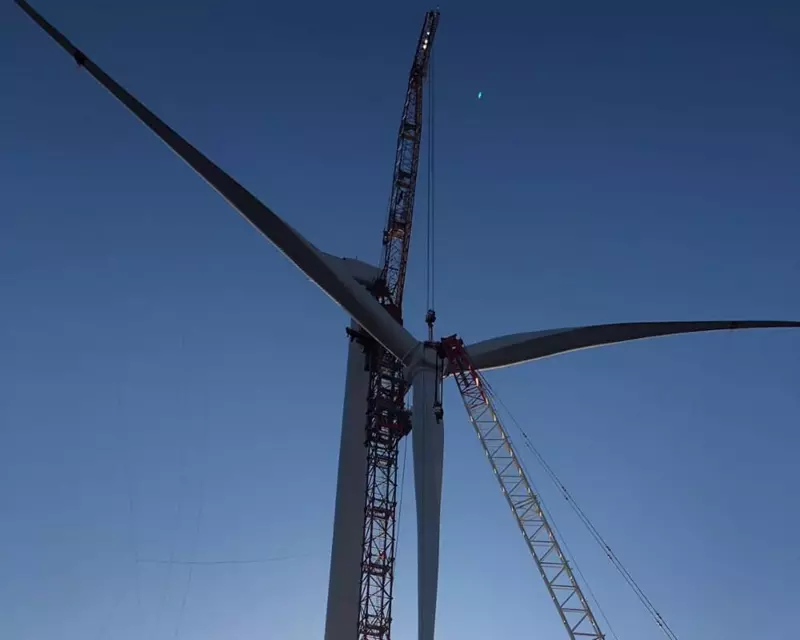 Expertise:
Heavy lifting

Heavy transport

Crane lifting
Benefits:
Reduced preparation

Optimized schedule
Over 850MW of wind energy was installed in Australia in 2018 and a third of the country's clean energy now comes from wind farms.
In the summer of 2019, there were 90 renewable energy projects either in construction or due to start soon in the country. The completion of the first phase of Lincoln Gap Wind Farm, near Port Augusta, was one milestone for Australia.
The site is set to become one of the region's largest wind farms and will produce enough power to supply 155,000 homes.
Mammoet was tasked with installing eight of the 35 wind turbines for this stage of the project. Lincoln Gap Wind Farm was the first project in Australia to use tower cranes to install wind turbine generators. It was also the first time this type of turbine had been installed anywhere in the world for Senvion and Nexif Energy using tower cranes.
Bringing the exceptional K1650L tower cranes into Australia was a complex task but Mammoet was able to meet the project's schedule. The company's global spread and previous experience of large-scale work in Australia enabled them to efficiently manage the importation and registration process for the cranes.
First, Mammoet was asked to assist with the import of components from Germany. After being airfreighted into Melbourne, they were transported to the Lincoln Gap Wind Farm site. Mammoet's experience of similar vast transportation in a variety of environments enabled it to effectively plan the most efficient route.
For the installation of the wind turbines, Mammoet's tower cranes were the ideal solution. They can tolerate higher wind speeds than conventional cranes and have a shorter boom length. They also take up a smaller footprint on the hardstand and this makes the entire project more economical as smaller wind turbine hardstands can be constructed.
The wind turbine components weighed up to 133t with a hub height of 110m. Instead of lifting each blade individually, the rotors were assembled at ground level and then lifted by two cranes working in tandem. This dual crane lift enabled accurate coordination throughout the lifting process and Mammoet was able to perform a more precise installation.
During the project, Mammoet utilized numerous cranes including one K1650L tower crane; a 300t mobile hydraulic crane; and a 400t crawler crane. Transportation equipment included 15 axle lines of SPT and 12 axle lines of conventional trailers. Alongside these, Mammoet made use of several other smaller cranes and pieces of transport equipment, as well as elevated work platforms and telehandlers.
Once complete, Lincoln Gap Wind Farm will have 59 wind turbine generators that can generate 212MW. The wind farm is expected to last 25 years and is forecast to offset 600,000t of CO2 emissions each year.