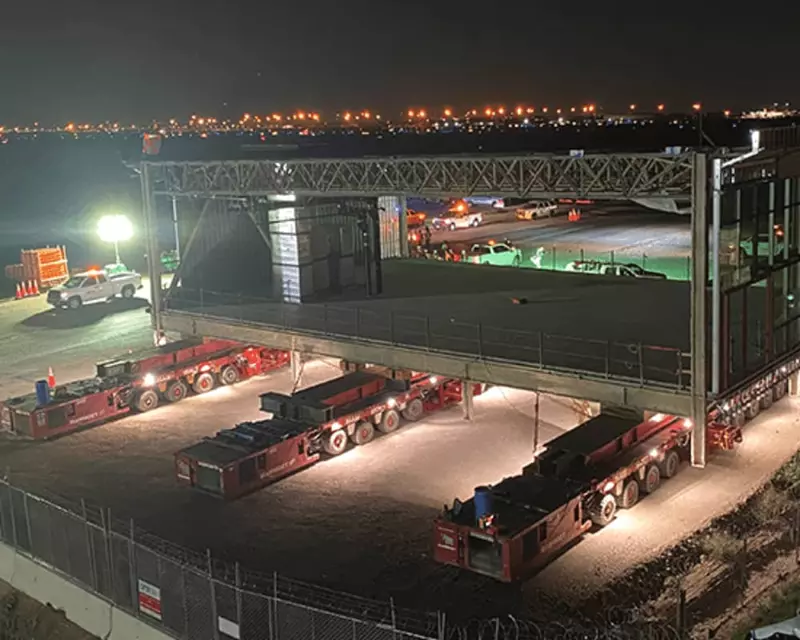 Expertise:
Heavy transport

Heavy lifting

Jacking
Benefits:
Reduced preparation

Optimized schedule

Reduced disruption
Mega Jack 300 jacking cradle moves six airport buildings 20% faster than usual.
Mammoet was contracted to move and install four new gates for Terminal C at Dallas-Fort Worth Airport in Texas.
The modules, which were broken up into six prefabricated pieces, were the first loads to be moved by Mammoet's newly innovated Mega Jack 300 jacking cradles.
The conventional approach to jacking operations often requires 'falsework', whereby the load is moved onto temporary steel support structures. This jacking cradle technology creates a new way of transporting and jacking that eliminates the need for this extra work.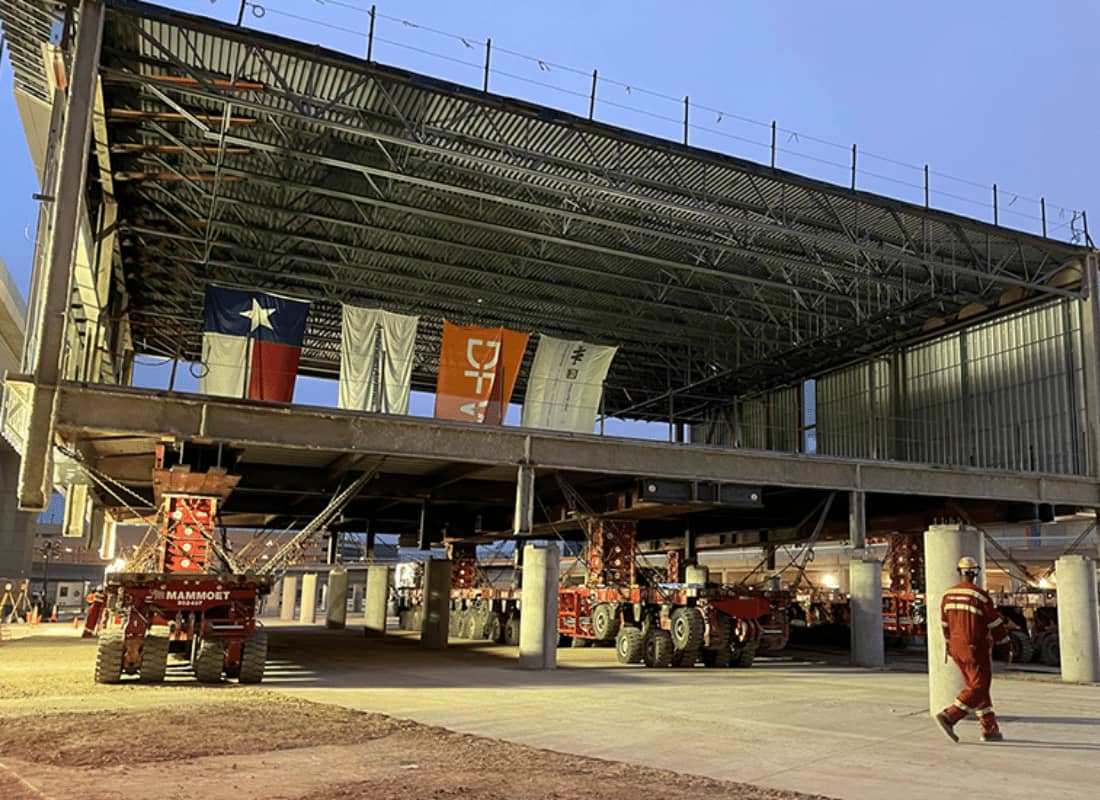 The Mega Jack 300 cradle is an in-house designed piece of equipment that allows the existing Mega Jack 300 to be positioned and operated between SPMTs, which allows the jacking and transport to be completed simultaneously - leading to more cost-effective, sustainable, and safer operations.
Mammoet's scope included moving each module from the fabrication yard, through the airfield, to Terminal C – approximately one mile (1.6km). To minimize disruption to the busy airport, mechanics and spare equipment were brought in on stand-by to ensure the runways would be able to reopen as scheduled. Each module was made of concrete, steel, and glass, with the largest measuring approximately 26m (84ft.) long, 29m long (~95 ft.) wide, and 11 m high (~38 ft.) and weighing a total of 512t.
Mammoet received the modules using three trains of SPMT, totaling 51 axle lines, with six Mega Jack 300 cradle systems attached. In order to get to Terminal C, the route crossed underneath the active Skylink Train, which connects passengers between terminals.
After passing through with a clearance of approximately 15 centimeters (6 inches) between the cargo and train tracks, each module was then carefully rotated and positioned in the designated jacking area in front of the foundation. With the trailers in place, the load was jacked up roughly 2 meters (~6 ft.) which allowed the modules to pass over the foundation's anchor bolts.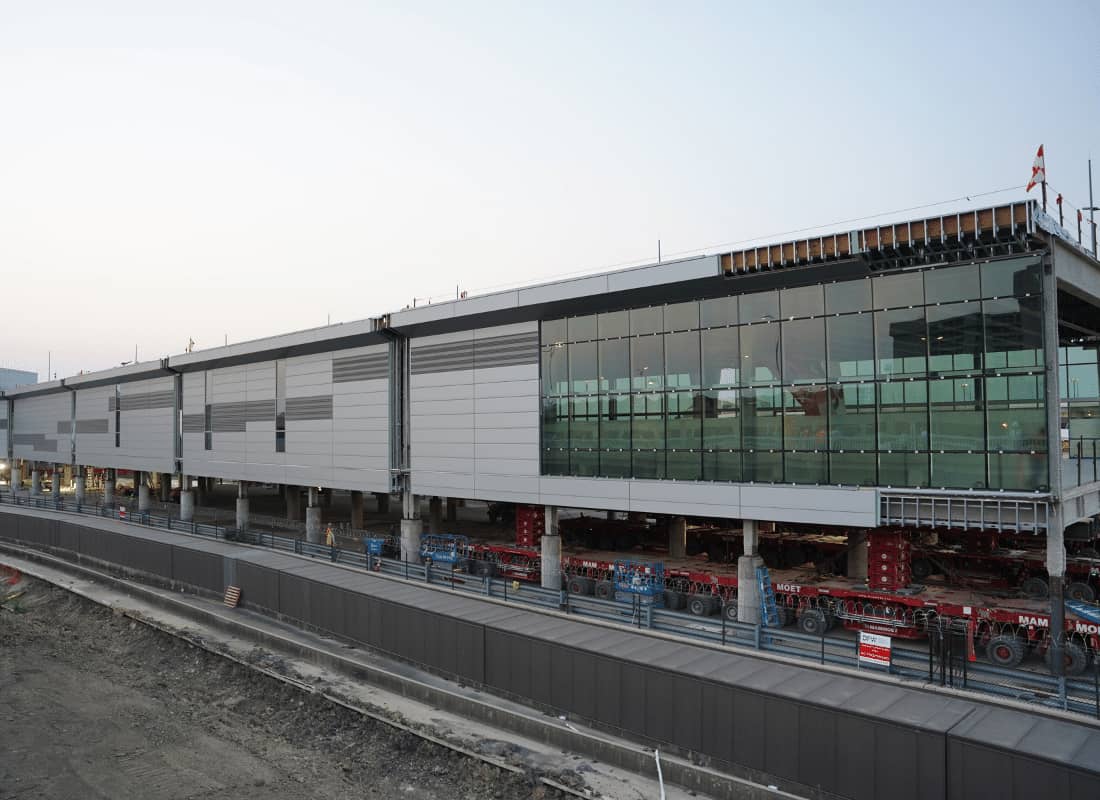 The columns that would support these structures were already in position. From here, transport of each section through this path of columns began, with a total distance of 173 meters (567 ft.) for the first and furthest traveling building.
The route involved a challenging turn with only a few centimeters of clearance between the trailers and columns. Finally, with each building's legs in the desired location and with the use of the trailer's hydraulics, the loads could be installed in their final location to allow the client to weld between the building and foundations.
This innovative approach using these jacking cradles resulted in a 20% savings on the overall schedule, with each module transport journey taking just under one hour. The entire process of transport, positioning under the Skylink Train, raise, and installation per module was completed within a twelve-hour shift. The opening of the new gates is scheduled for June 2022. Mammoet's team was proud to work with Archer Western as Contractor, PGAL as Architect of Record, and Henderson + Rogers as Structural Engineer of Record.