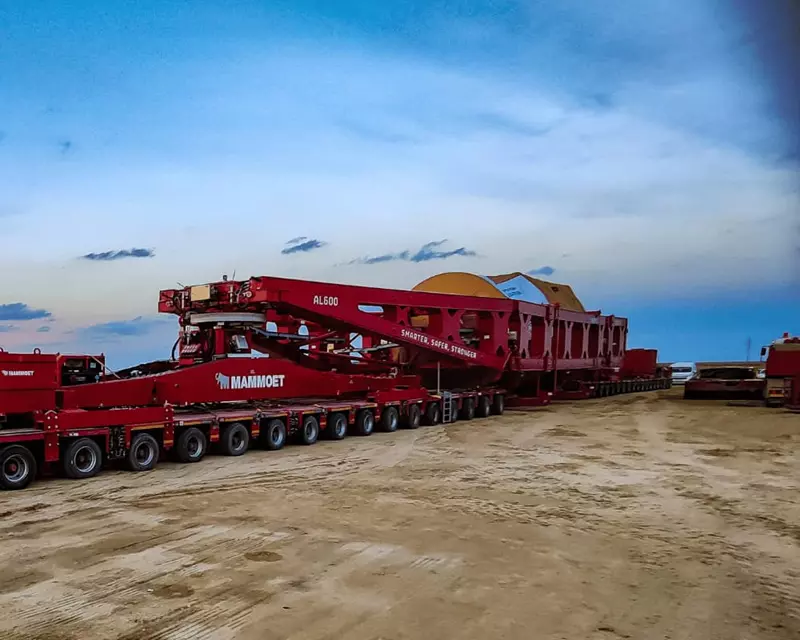 Expertise:
Heavy transport

Project logistics
Benefits:
Optimized schedule

Protected infrastructure
Mammoet provides tailored engineered solutions for 1.5GW CCGT power plant in Uzbekistan.
When Mammoet was approached by Globalink Logistics to assist with the transportation of heavy items for the construction of a new power plant in the city of Shirin, Uzbekistan, it certainly wasn't a case of "let's cross that bridge when we come to it" when rising to the engineering challenge.
Developed by ACWA Power, the new 1.5GW combined cycle gas turbine (CCGT) power plant is part of the Uzbekistan Government's plan to improve efficiency and capacity of its electricity production while boosting economic growth and reducing environmental impact.
Uzbekistan doesn't have sea access, so typically Caspian Sea ports are chosen for receiving any Out of Gauge (OOG) cargo. For this project we have chosen Kazakhstan Port of Bautino. This cargo's destination was the city of Shirin in Uzbekistan, meaning once it arrived at the Caspian port it would face a 2200-kilometer road trip.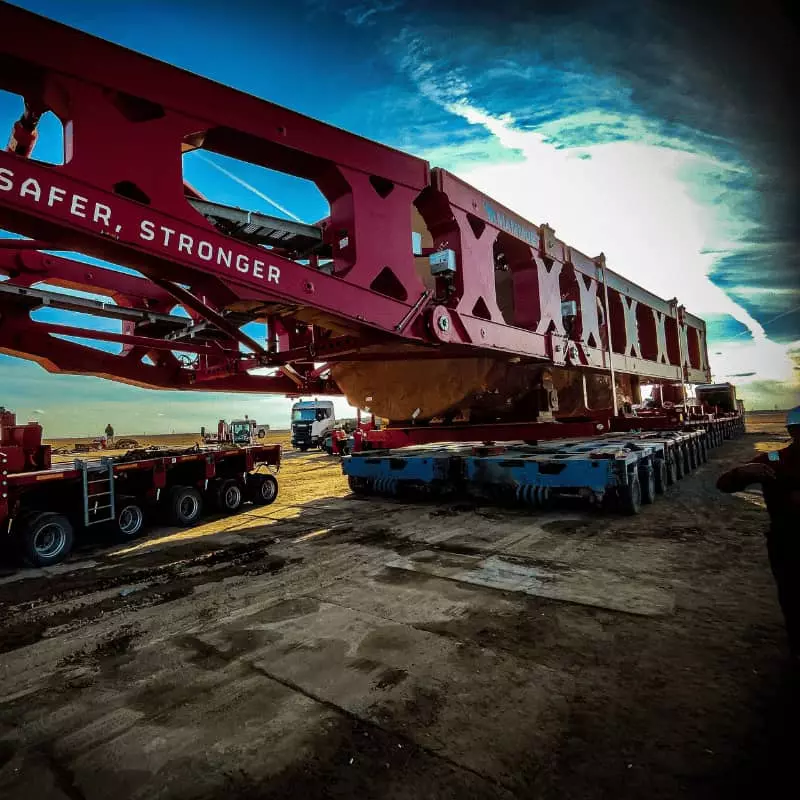 Precision planning, from port to plant
A team of engineers, headed up by Mammoet Operations Manager Marek Lysko, set to work on planning the best method to get the OOG components (ranging from 130t to 517t) from port to plant.
It was decided that Port of Bautino, located on the coast of the Kazakh Caspian Sea, would be the best port to receive the cargo.
Mammoet has had a presence in the Caspian region since 2004.
Well established in this particular port since 2018, Mammoet has access to crawler cranes, conventional and SPMT trailers, and a yard with 30 t/m2 maximum allowable ground bearing capacity. The port also links to important transport corridors, which makes the transport of heavy loads through the region more efficient.
"We call it Mammoet Port, because it's purely operated by us,' says Ali Yoldashov, Mammoet's Regional Manager – Caspian. "Bautino is a seaport and has sufficient draft, unlike other ports in the Caspian Sea. The ground-bearing pressure capacity on the port is sufficient enough to handle oversized cargo on the crane outreach. It also gave us the possibility to make customs clearance and practically unlimited storage space. We established it was the only solution."
Most of the OOG items would be loaded straight from vessel to trailer and then driven to the site directly from the port. However, for the five heaviest items, most notably the 517t gas turbines, this wasn't possible.
Ali explains why: "The gas turbines can be transported on a rigid set of conventional trailers having large axle numbers, but because of the load capacity of the majority of the existing bridges in Uzbekistan, the load spreading calculation entered the discussion. Everybody understood that this solution wouldn't be suitable for the transportation of these heavy units on the bridges. What we had to do was distribute the weight, practically, by hanging the cargo between 2 separate trailers at the front end and rear end"
Even with this solution and 480 tires distributing the load, there were still some bridges unable to handle the extreme axle loads.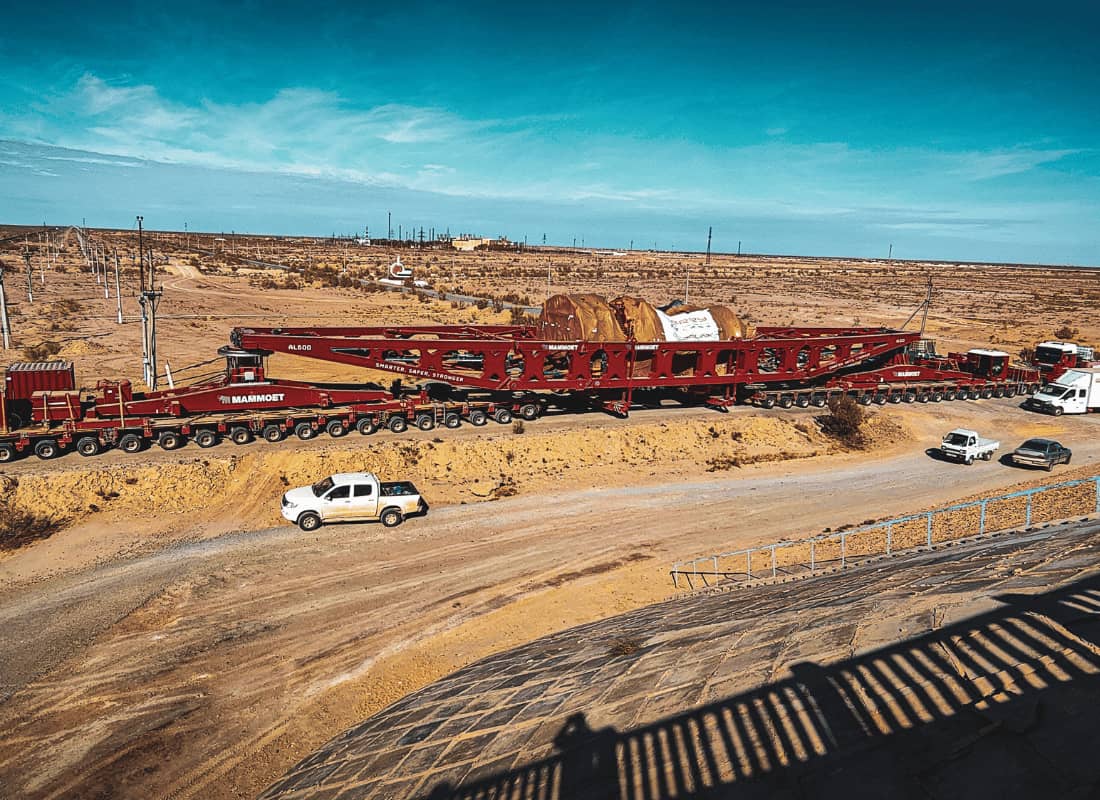 Framing the challenge
The team came up with a solution to add another 8 axles (64 tires) directly under the hanging cargo to cross these critical bridges. Adding and removing additional axles was a challenge in terms of engineering and operations, but proved to be the only way to protect the team, equipment, cargo and infrastructure. This required a specialist piece of Mammoet equipment: the AL600 Girder Frame.
Designed to transport the next generation of power equipment exceeding weights of 500t; the AL600 is a globally unique product in terms of design and capacity. It can transport heavy loads to remote locations with road restrictions. These restrictions can be height, low bridges or, in this case, axle loadings – whereby a route or country legislation demands a need to spread heavier loads over more axles.
The AL600 sits on two independent trailers, towed by prime movers, and its modular design allows for up to 2 sets of 20 axle lines to carry exceptional weights, which are distributed using a load spreader system.
"The AL600 was designed and built from high-strength steel to keep the self-weight as low as possible" Marek explains. "It has a very good ratio of self-weight to capacity of cargo. This means it's light but flexible and strong. This was an important factor for the Uzbekistan bridges, which have really low lenience for axle loads."
Because the project site couldn't accommodate the size of the AL600 convoy, which was over 100 m in length, the cargo was transferred onto Mammoet Self-Propelled Modular Trailers (SPMTs).
Asked what made Mammoet's approach unique and how it benefited the customer, Lysko answers:
"The customer took advantage of the combination of Mammoet's specialist equipment, and engineering and logistics expertise to overcome obstacles and bottlenecks en route. However, I think the biggest benefit for our customer was the end-to-end logistics solution that was provided by a single company, instead of having to coordinate multiple suppliers. This improved overall efficiency and alignment of delivery schedules, mitigated risks and enhanced safety."