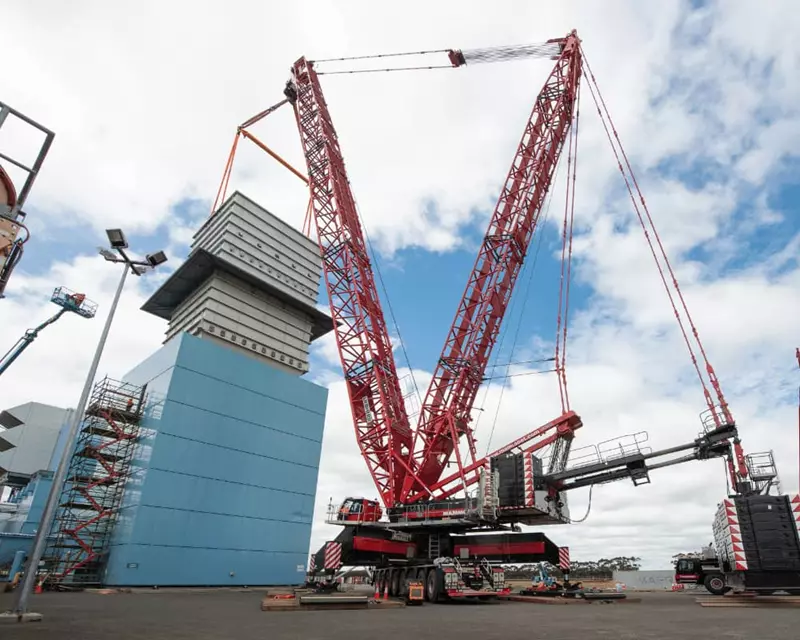 Expertise:
Heavy lifting

Crane lifting
The first time an exhaust silencer replacement was lifted in a single piece.
Mammoet has completed the replacement of a matured exhaust silencer for a gas turbine, at a gas-fired power station in Victoria, Australia. Removal of this 305t exhaust silencer was completed in a single lift.
Therefore, this reduced the amount of time our client, an Australian energy company needed for their operations to be suspended to allow the replacement to take place.
There were several challenges on site, which included the space available, how to interface with other activities crucial to the lift procedure, and the technical complexity of the lift itself - which needed to be very precise, despite the weights involved. The challenge lay in creating a methodology that was both strong enough to lift the loads and fast enough to keep delays to a minimum.
So, the lift was meticulously planned, as every aspect of the lift was engineered weeks in advance. The crane's position, boom laydown, and location of the super lift tray were all marked out ahead of its arrival on site, ensuring engineering checks could be made that significantly optimized its setup time.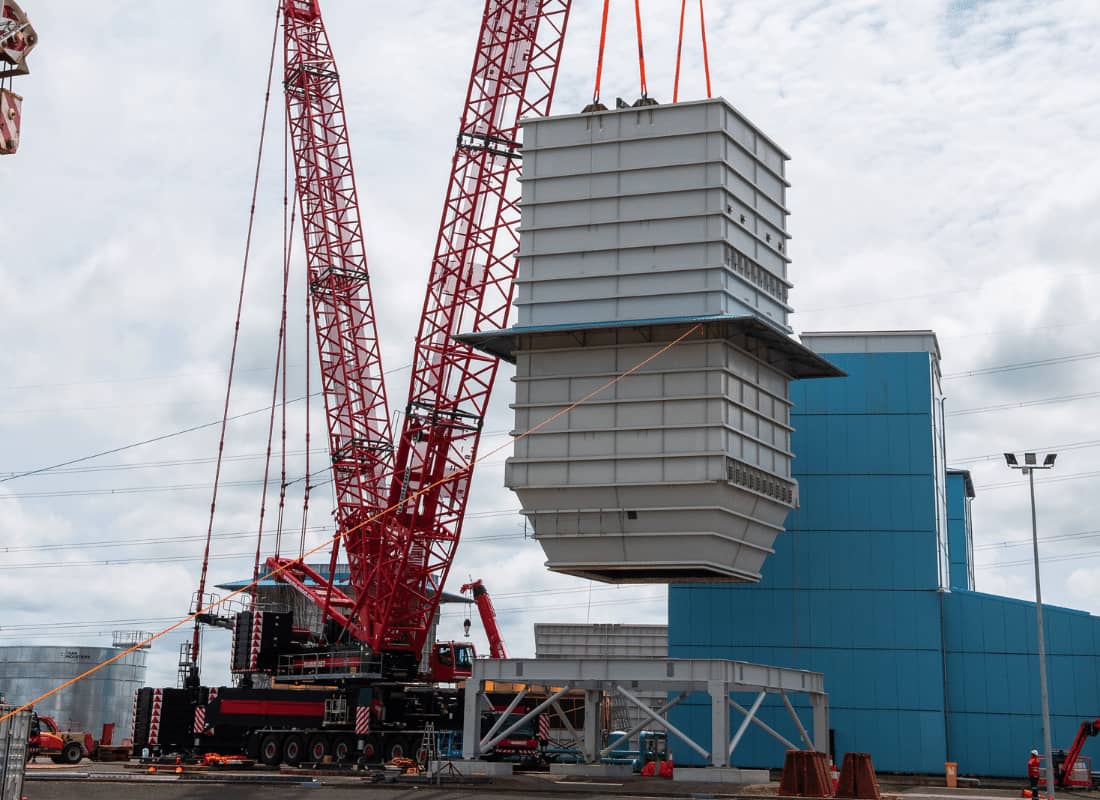 Mammoet proposed to use the Liebherr LG 1750 because its suspended ballast system allowed the center 125t ballast tray to be disconnected from the outer 400t capacity ballast tray, once the load had been raised to the installation radius. This cut down on any delay so that the crane's counterweight could be adjusted by auxiliary cranes and allowed the team to execute the project both efficiently and meticulously.
Secondly, the team faced the challenge of having to deal with the gas turbine's tight shutdown schedule. Mechanical preparations could not start until the gas turbine was switched off and there was a narrow timeframe to complete lifting lug welding so that the LG 1750 crane could be assembled and ready for lifting.
Mammoet overcame the above challenge by carrying out detailed site surveys in advance and planning an accelerated mobilization schedule. The LG 1750 could then be brought onto the site and set up quickly to minimize the required shutdown period for the gas power plant.
Once the 305t used silencer had been removed, a new silencer was fitted, comprising two pieces: a 168t base module and a 159t top module.
Throughout the project, Mammoet ensured the highest levels of operational efficiency, so that disruptions to day-to-day work were minimal, and that downtime for the power station was kept low. Furthermore, Mammoet was able to provide the right equipment and expertise to efficiently set up and operate the LG 1750 SX despite significant space restrictions on-site.
Completion of this replacement will see the gas-fired power station continue with full operation for power generation. The power station's two generating turbines have an overall capacity of 566 Megawatts.