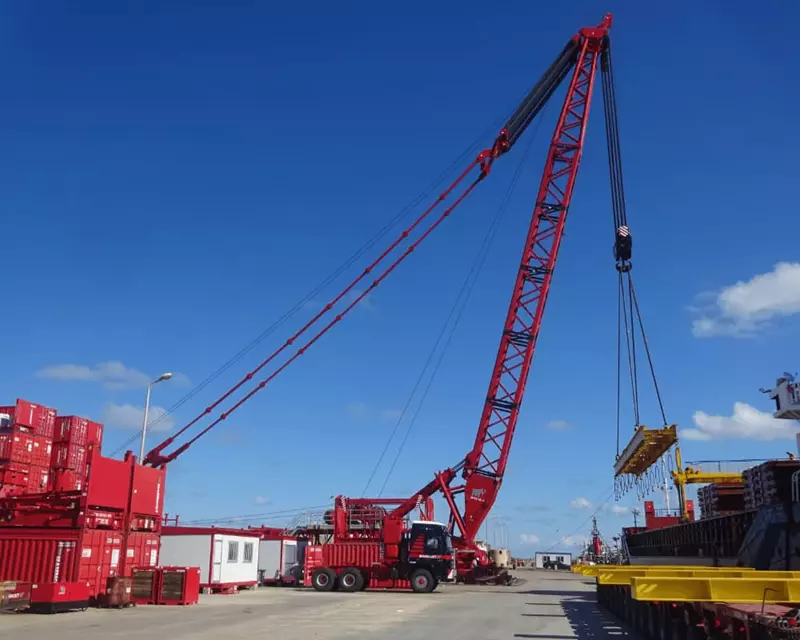 Expertise:
Crane lifting

Load-in & load-out

Heavy transport
Benefits:
Protected infrastructure

Reduced preparation

Simplified management
When the port you need doesn't exist, build it instead.
The Burullus power plant is part of a major project to significantly increase Egypt's power capacity. Apart from meeting the population's urgent demand for reliable power, the project is vital for the country's economic development and growth.
But transporting pieces weighing nearly 500 tons across the Nile Delta over poor roads and bridges was impossible.
The solution? Upgrade a tiny fishing port, making it able to handle such cargo near the project site. It meant dredging a channel for ships, installing a special heavy-lift crane, and reinforcing the quayside. All under the pressure of an extremely tight schedule.
The new power station at Burullus was one of three being built that, together, would boost Egypt's power supply by a massive 50%. But it was a 116 km journey from the closest seaport to the project site and there was no way the roads and bridges along the way would cope with the weight of eight enormous gas turbines and hundreds of other oversized components. Going overland simply wasn't an option. So Mammoet turned its attention to the sea route instead
The fishing port of Burullus was ideally located near the work site but didn't have the heavy-lifting facilities needed to transfer heavy loads onto trailers. The challenge was to make it suitable and then transport the pieces a relatively short distance onto the site.
This involved reinforcing 150 meters of quayside, dredging the port basin to make it deep enough for incoming vessels, and widening the port entrance so ships up to 100 meters long could maneuver. Crucially, the Mammoet Terminal Crane (MTC15), specifically designed for situations like these, was deployed. Conveniently transported in containers, it was quickly assembled to effectively turn the small fishing port into a viable heavy-lift terminal.
Around 50 shallow draft vessels brought the gas turbines, generators, transformers, and boiler modules to the port. The MTC-15 loaded each one onto trailers, which took them onto the project site. After unloading, Mammoet also carried out the installation of the key components.
Mammoet's solution cut the distance to the project site by 100 km. This slashed the time needed to get the components there and meant the power station could be brought online on time. Now the Egyptian economy is benefitting from a huge boost to its energy capacity – all thanks to some out-of-the-box thinking and a very special heavy-lift crane.