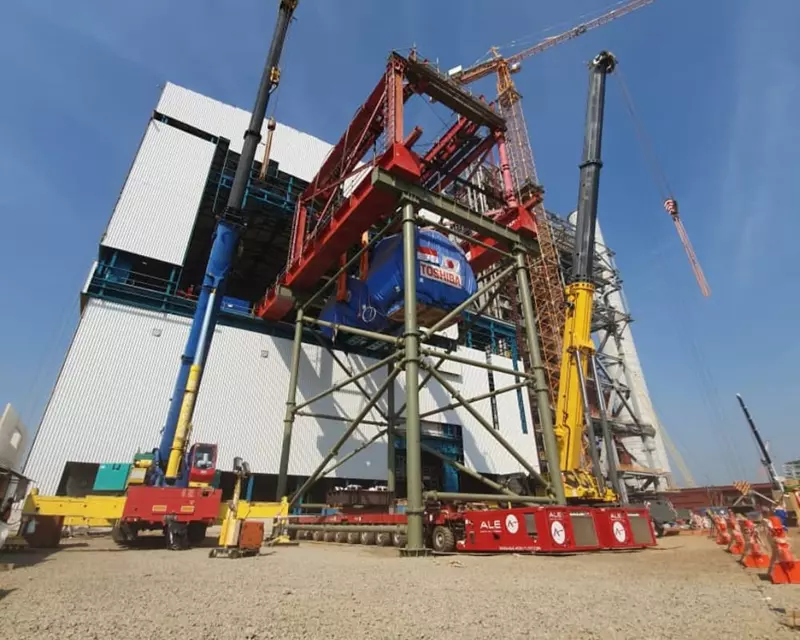 Expertise:
Gantry lifting

Heavy transport

Jacking
Benefits:
Reduced preparation

Protected infrastructure
The expansion of Tanjung Jati B power station in Indonesia is a $4.4bn project and will add two high-efficiency ultra-supercritical coal-fired units, each with 1,000MW capacity.
They will increase the existing power plant's capacity by 75%, contributing to the Indonesian government's plan to increase the country's power generation capacity by 35,000 MW.
Mammoet was contracted for the installation of a 462t generator at one of the new units. This was the heaviest steam turbine generator to ever be installed in Indonesia. The building's design meant Mammoet needed to design a bespoke solution for the installation of the generator. It needed to be carefully lifted 16m high, maneuvered, and then precisely installed. Mammoet's wide experience in power generation installations enabled it to specially-tailor the optimal method for the movement of the generator, ensuring the safest and most efficient installation possible.
A gantry system with strand jacks was installed on skid tracks. Once the generator had been positioned on a trailer below the gantry, strand jacks were attached to the generator. The strand jacks lifted it until it was clear of the trailer.
Mammoet held the generator in position for 30 minutes to check for any settlement of the ground beneath the skid tracks. Additionally, the gantry system was monitored by an electronic monitoring system. If its verticality moved more than 15mm from its original position, the load would be lowered and made safe again. Only when Mammoet's team was satisfied that it was safe to proceed did they move to the next stage of the installation.
The gantry system was set to drive mode and moved along the skid tracks until the generator was above the foundation. The generator was lowered until it was 30mm above the foundation and then its alignment was checked to ensure the installation would be accurate. When certain, Mammoet lowered the generator onto bearing pads using the strand jacks.
For this project, Mammoet designed and built custom modular beams, utilizing them alongside the gantry, a 500t capacity skidding system, and four 200t capacity strand jacks.
Once finished, the Tanjung Jati B power plant will supply additional power to the local area for at least 25 years. The expansion is expected to be complete and the new units operational in 2021.