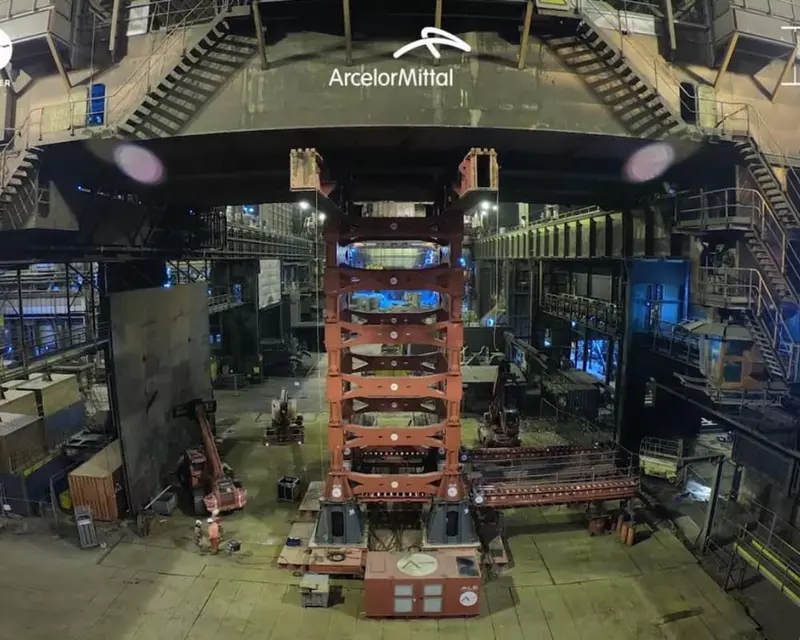 Benefits:
Reduced disruption

Optimized schedule
One of the main challenges during the demolition project was the limited space within the plant and finding a solution that also enabled other operations to continue in the plant.
The small footprint, stability and quick jacking capabilities of Mammoet's Mega Jack system have enabled a steel plant to minimize downtime and save valuable project time while carrying out the removal of an overhead crane in Gent, Belgium.
The small site space meant that the overhead crane needed to be taken apart and removed in pieces. It also made it impossible to use a large crane for the dismantling. Mammoet completed the engineering planning and preparations, calculating what equipment would optimize each stage of the operation.
Mammoet's Mega Jack was the ideal solution as it is narrower than other alternatives, with a single 5m x 5m jacking tower configuration and steel load spreading underneath, taking up an area of only 10m x 10m at ground level. Not only did the system's compactness make it suitable, but it also provided the required stability and enough clearance on both sides.
The system's compact footprint meant the client could use elevated working platforms around the Mega Jack to get full access to the crane from above and commence cutting of the crane girders after fixation of the end-carriage to the hall structure. This safe and stable solution was installed beneath the overhead crane, weighing 864t, which it then partly jacked down. The customer used a shear crane to remove the extending cabin, allowing Mammoet to further jack down.
The next section to be removed was the hoist trolley, weighing 53t, which was lowered onto SPMTs by a mobile crane and transported to a demolition area. Using climbing jacks, the load of the crane was transferred from the Mega Jack so the Mega Jack could be removed easily and swiftly. The climbing jacks enabled Mammoet to lower the overhead crane even further. This height reduction was required to meet the height restrictions of the existing hall exit door.
Then, the main trolley, weighing 199t, was jacked up with a second set of climbing jacks to provide clearance between the trolley and the crane girders. Once SPMTs had removed the girders from both sides, the main trolley was lowered onto the waiting SPMTs and transported to the demolition area.
Mammoet had completed calculations prior to the commencement of the operation but was able to use the Mega Jack to verify the in-place weights of the end carriages, which were left at height on both crane tracks until the end of the operations inside the plant. The end carriages were removed one by one by a tandem crane operation, before being placed onto SPMTs ready for demolition. The Mega Jack's fast operating system also enabled Mammoet to complete the work swiftly and on schedule, removing the whole crane comfortably within the 10-day schedule.