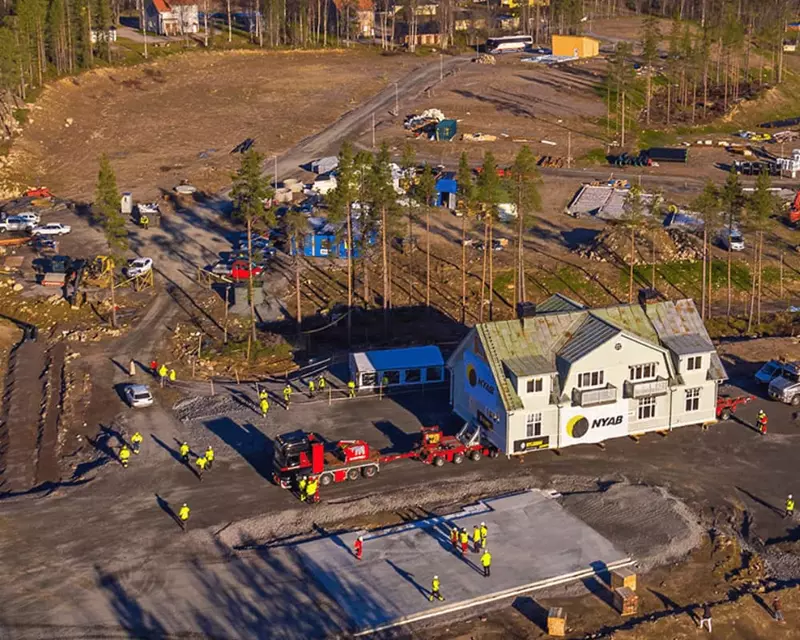 Benefits:
Protected infrastructure

Optimized schedule
Taking it slow is the fastest way to save homes from mine expansion.
When a mining company wanted 47 historic buildings moved seven kilometers to a neighboring village to allow a mine expansion, Mammoet faced a twin challenge.
Not only were the buildings old and fragile, but they also had to be positioned in their new location before the impending winter snow. By analyzing every property and every detail of the procedure, Mammoet completed a timesaving relocation while ensuring the structural stability of each building. As a result, the resettled community was able to keep their traditional homes and enjoy the economic benefits of the mine expansion.
They've been mining iron ore in Malmberget, on the outskirts of the Swedish city of Gällivare, since 1888. The village was originally built for mine workers, but when large iron deposits were identified beneath the buildings, it was time to move home – literally. The LKAB mining company commissioned NYAB to relocate the village to the nearby town of Koskullskulle.
Mammoet's task was to lift, transport, and reposition 47 complete buildings during three separate periods over three years. The buildings, many with high cultural value, ranged from 45 to 230 metric tons, the largest of which was 25 meters long, 14 meters wide, and 12.5 meters high.
As the properties were mostly old, wooden, and constructed using unfamiliar methods, their structural integrity was uncertain. Caution, therefore, was crucial, but so was speed. The buildings needed to be settled on their new foundations before the arrival of the harsh Swedish winter.
Mammoet commissioned specialist Nylundh to dig beneath each building and install support beams. To keep the buildings stable and rigid during relocation, Mammoet and Nylundh engineers calculated each property's center of gravity and assessed its structural stability. This enabled trailers to be driven underneath each building and have their hydraulic jacks raise the structure without causing damage or distortion.
Transporting each building the seven-kilometer distance to Koskullskulle was accomplished using two prime movers and 18 axles of conventional trailers. Hard braking had to be avoided to prevent any structural movement within the buildings, so speed was kept at a maximum of 10 km/hour. On arrival, each building was lowered onto its new foundation using the trailer's hydraulics.
With multiple buildings being moved on most days, the first phase, comprising 14 houses and five sheds, was completed in 12 days – one day before the first snow started to fall.