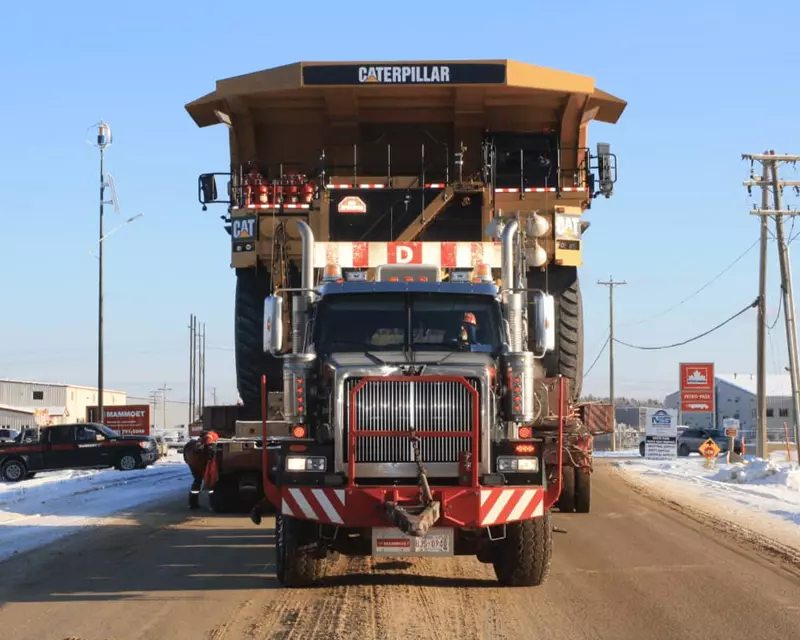 Expertise:
Heavy transport

Project logistics

Jacking
Benefits:
Reduced preparation

Protected infrastructure

Reduced preparation

Simplified management
Transporting monster trucks in one instead of three pieces saves six days.
Caterpillar's 797 off-highway haul trucks are true monster trucks. Canada's oil sands industry has the largest population of 797s, and local distributor Finning is busy supplying and managing the fleet. They weigh in at 320 tons.
With a width of almost ten meters and high ground bearing pressure, they are too big for regular roads. Instead of shipping the trucks in a number of pieces for reassembly at the site, Mammoet developed an innovative solution to transport the trucks in one piece, saving significant time and money in the process, improving safety, and creating more value for Finning's customers.
Due to their dimensions and ground-bearing pressure, 797s, like most mining equipment, are not permitted to travel on provincial highways for fear of roadway damage. Therefore, vehicles have traditionally been transported in a time-consuming and costly process. They are first disassembled in eight pieces, then shipped to the site in three separate loads, before finally being reassembled again. When it comes time for their regular refurbishing, the process takes place all over again in reverse, with a significant negative impact on uptime and safety.
For a long time, this inefficient method was thought the only option available. Yet after engagement and extensive research together with Finning, Mammoet found a way to reinvent the process. The team presented a novel idea that would allow the transport of vehicles in one piece.
Elegant in its simplicity, it consists of a specially designed jacking frame that can be adjusted for different models of mining equipment and allows the truck to be loaded in one piece onto a trailer. This effectively spreads the weight of the truck, putting the complete setup within ground-bearing limits to travel on Canada's highway system under special transport permits.
First, the fully-assembled truck is loaded onto a trailer. Thereafter they are transported whole to the site, where they're unloaded, ready to be put to task immediately, carrying huge loads of ore.
When executed in October 2015, this was the first time a permitted haul took place of a whole 797 mining truck on the highway. Transporting 797s in one go is such an innovation that client Finning effectively has an improved value proposition; being able to save between five and six days in delivery – faster than any other competitor. Uptime happens much sooner, while safety has increased and costs are lower.