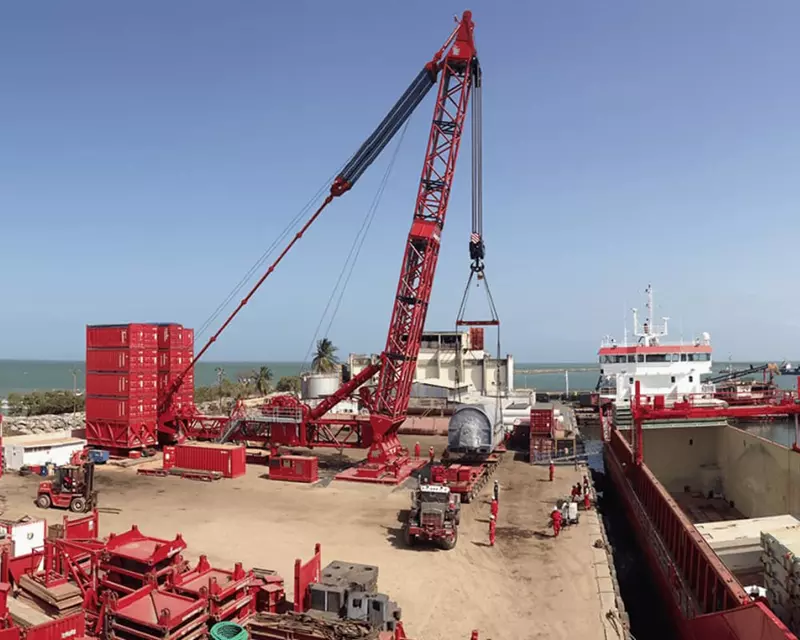 Expertise:
Heavy lifting

Load-in & load-out

Crane lifting
An innovation that saved two months and US$ 10 million.
Building the right power infrastructure is often the first on the list of developing nations, but getting the job done frequently means accessing remote locations in uncertain conditions. Such was the case in Venezuela's Guiria, a small fisherman's port near the Juan Manuel Valdez power plant.
Guiria was an ideal site to transship 45,000 freight tons of oversized and heavy cargo destined for the plant. However, without the necessary heavy lifting capacity and insufficient draught for a heavy lift vessel, the town's port was initially ruled out by the client. By putting one of their innovations in play, Mammoet unlocked a faster and more cost-effective route.
Mammoet was contracted to deliver two turbines, two generators and associated cargo; key components necessary to build the 900MW combined cycle power plant for the growing Venezuelan market.
With the load coming from factories across Europe and the United States, key was determining the most efficient route to site without impacting project costs, safety and timelines.
Guiria's local port would be ideal, as it is located 20 kilometers from the site and the nearest alternative, Guanta, was 350 kilometers away and had its own logistical challenges. However, this port was found unsuitable: its shallow draft did not allow the use of a heavy lift vessel. And its ground bearing capacity was too limited to accommodate a conventional crane with sufficient lifting capacity,
Exploring the possibilities thoroughly, Mammoet soon identified a much faster approach that would also save a significant amount of money. Thanks to a Mammoet innovation, we took the bold step of recommending the route previously ruled out. The MTC15 is a containerized terminal crane with a capacity of up to 600 tons and a low ground bearing pressure. The crane is specifically designed to quickly turn any quayside into a heavy lifting facility.
For a more efficient cargo flow, the turbines and generators were first consolidated in Texas before shipping to Guiria. The transformers arrived at the same location via Trinidad.
Meanwhile, in Guiria, the MTC15 had turned the port into a heavy-lifting terminal. Once offloaded, the cargo was transported by road to the plant site.
A clever and more efficient logistics concept, that avoided logistical challenges that came with other routes. Together with the MTC15 Mammoet reduced the project timeline by two months, saving around $10M on the plant's logistics bill. The Juan Manuel Valdez plant was erected efficiently, allowing Venezuela to continue its growth spurt unbridled.