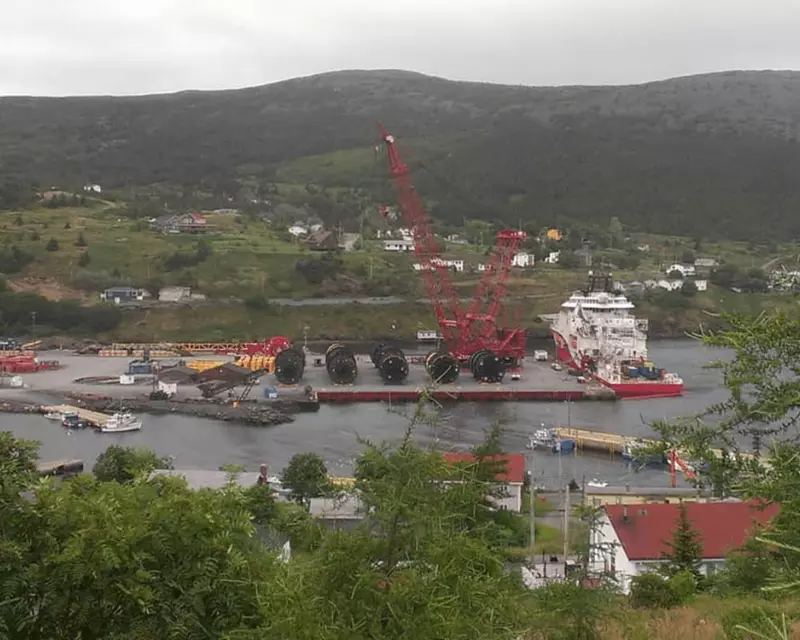 Expertise:
Heavy lifting

Load-in & load-out

Crane lifting
Benefits:
Optimized schedule

Increased safety
One big crane saves big time and big money.
Subsea 7 was contracted to replace 20 kilometers of flexible flow lines for the Terra Nova FPSO. Mammoet was brought in to offload and store reels of the new riser pipe and subsequently load them onto the pipe-laying vessels.
The job had to be completed quickly in order to minimize the disruption to the Terra Nova FPSO.
Mammoet's one-crane solution eliminated the need for crawler cranes and SPMTs which would typically be used to drive up and down between the ships and the storage locations. This approach accelerated the pipe replacement schedule by 2-3 weeks – saving much time and money.
Typically, smaller crawler cranes and SPMTs are used to offload and transport flow line reels from storage onto the supply ships. However, this method requires the SPMTs to drive back and forth between the ships and the lifting locations several times. With all the handling involved, this is a time-consuming process that would eat away at the already narrow time window available for the job.
Mapping the situation against its diverse fleet, Mammoet devised a plan in which a single crane was used to do all the handling work – a PTC35. The great reach and capacity of the PTC35 meant Mammoet could service all offloading and loading locations from a single position, not only eliminating the need for on-site transportation and other equipment but greatly simplifying and shortening the overall process as well.
But Mammoet's single crane approach brought more than time savings alone; without the risks involved in having multiple crawler cranes and transportation on-site, the PTC method also increased operational safety.
While opting to use a single PTC crane would ultimately result in time savings, mobilizing it provided another time challenge: the nearest PTC35 crane had to be mobilized, shipped to the job site in Canada, and assembled on site within six weeks.
Mammoet had a suitable crane available that had just finished a project in Mangalore, India. However, as mobilization and shipping from India would take four weeks, the PTC35 had to be assembled on location in two weeks, instead of the usual four.
Working round the clock, Mammoet managed to assemble the crane in only ten days – well in time and setting a new record in the process. The overall pipe-laying schedule was shortened by three weeks on an overall timeline of 21 weeks. At an operating cost of $100,000 per day for a pipe-laying ship, Mammoet's unorthodox approach definitely paid off.