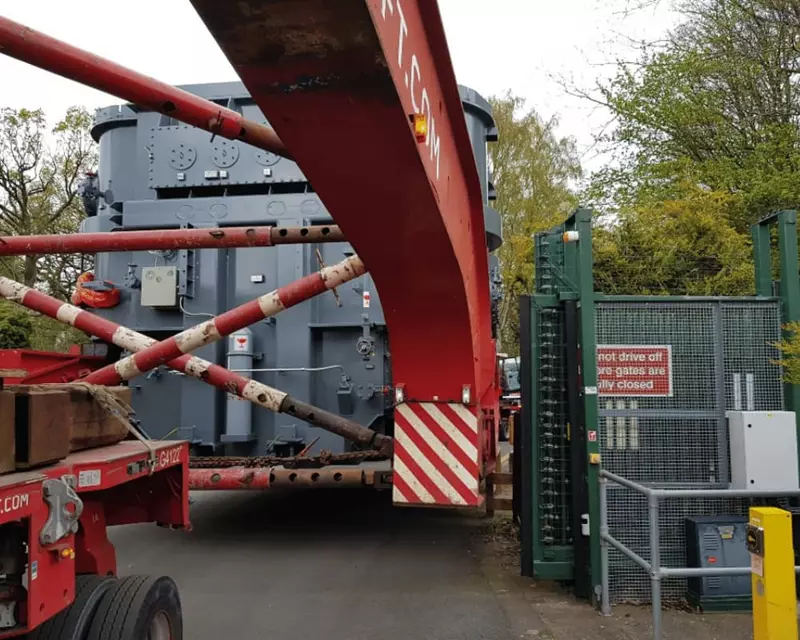 Expertise:
Heavy transport

Project logistics

Skidding
Benefits:
Reduced disruption

Reduced preparation

Simplified management
Transformers weighing up to 174t needed to be transported and installed at substations around the UK, along routes up to 140 kilometers long.
There was limited space on the routes and the transportation needed to meet tight deadlines. Based on their vast experience of challenging transformer moves in the country, Mammoet was chosen by logistics contractor Kuehne + Nagel to perform the operations.
There were five maneuvers performed in total during this operation. Previous transportation to the first substation required costly street furniture removals. However, the range of capacity in Mammoet's equipment selection combined with the skill of its transport operators enabled Mammoet to avoid this, saving significant costs for the operation.
The limited space on route for the second transport and at the site entrance was a major challenge. There were tight corners and then an extremely narrow gap at the security gate. While many heavy-lifting vehicles were unable to maneuver through these, once again, Mammoet was able to select an appropriate specialist transport configuration. The operators' expertise ensured the transport negotiated the route, passing through the security gate with a gap of just 60mm.
The third and fourth transformers both needed to be transported to two different sites within 24 hours. As they were not the same type of transformer, Mammoet needed to use two different types of transport configurations.
The fifth and final transportation required Mammoet to deliver a transformer in central London. This required a considerable amount of planning in order to minimize disruption to the area and Mammoet's flexibility ensured the best route solution could be achieved.
Following each of the transportation, Mammoet also carried out jacking and skidding operations to install each of the transformers. For these maneuvers, Mammoet mobilized its AL50 16 axle girder frame, two tractors, and its award-winning Trojan truck. For the installations, climbing jacks and skid tracks were used.
The installation of the new transformers has added a cumulative capacity of around two million volts to the UK National Grid, helping to secure a stable electricity supply across the country for the future.