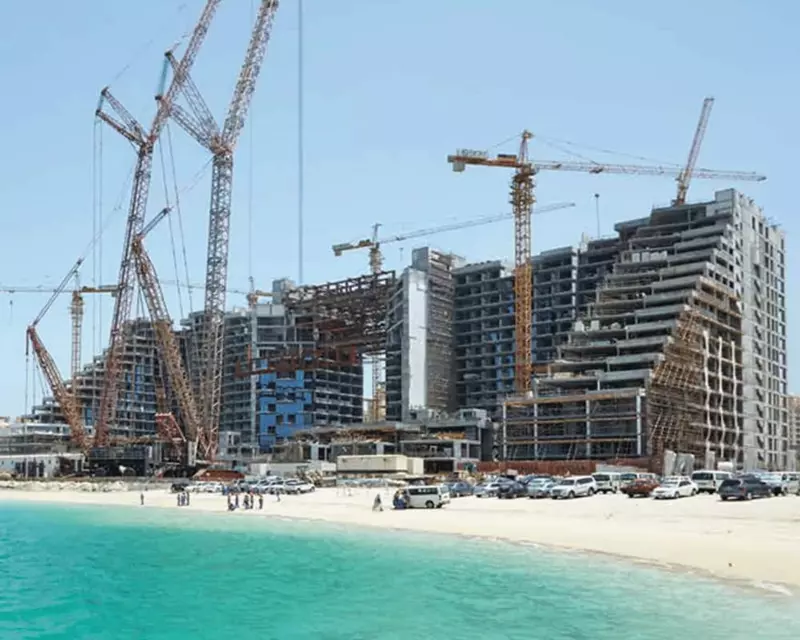 Expertise:
Heavy lifting

Crane lifting
Benefits:
Optimized schedule

Rapid response

Protected infrastructure
Dubai's skyline has a reputation for dynamic change.
With each passing month, the city is transformed anew – and the vast Palm Jumeirah project is set to do it all again. The new Viceroy Hotel is the project's centerpiece: a 481-room, 10-restaurant, all-star property.
In May 2015, Mammoet was called in at short notice to lift and install ten trusses of varying tonnage for the hotel's presidential suite. The only option to deliver on time was the complex tandem lift technique.
Mammoet was engaged mid-construction when project specifications unexpectedly changed, calling for larger trusses than originally designed. It was Mammoet's task to oversee the planning, lifting, and installation of the trusses, which support the presidential suite at a height of 60 meters. Weighing between 50 and 130 tons each, the trusses had to be mounted across the span of the suite.
Normally the best option for a lift of this size and complexity would be to deploy the LR 13000, the largest crawler crane in the world. However, for multiple reasons, this option was ruled out. First, with a source and mobilization time of six to eight weeks, it would have a negative impact on the project timeline. Furthermore, the ground-bearing pressure of the beach simply wouldn't support it, requiring additional investment in ground support. All in all, circumstances dictated that two smaller cranes working 'in tandem' would be the fastest, safest, and most cost-effective option.
Although Mammoet has significant experience with tandem lifts, it's a technique only called on when absolutely necessary. Complex and highly technical in nature, tandem lifts need to be carried out by a team of two highly experienced crane operators working in perfect sync, coordinated, and instructed by one supervisor. Together, they ensure that the load is evenly distributed throughout the lift. After careful engineering and planning, the decision was made to use this approach.
Mobilization ultimately took two weeks and 200 truckloads of equipment. For the lift itself, a CC8800-1 and an LR 1600/2 crane worked in tandem to precisely align the trusses for bolting and welding. Due to the site's coastal location, a high wind factor constantly threatened the stability of the load and the tandem lift, potentially creating further delays.
Ultimately, each of the ten trusses was installed safely and well within the deadlines imposed, saving six weeks – and a significant budget – over a single crane lift. Construction on the Viceroy project continues full speed ahead working towards its grand opening.