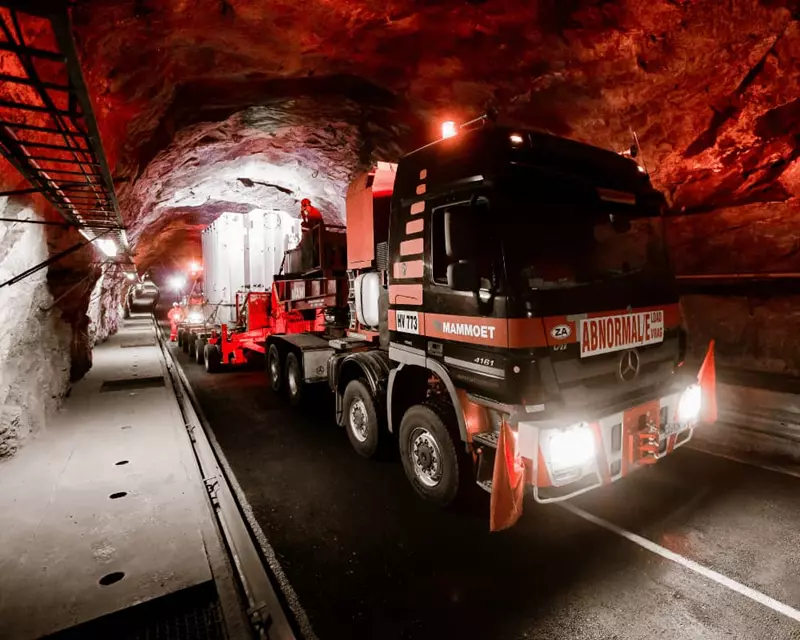 Expertise:
Heavy transport

Project logistics
Benefits:
Reduced preparation

Protected infrastructure

Simplified management
A tight fit at the end of an 11,000 km journey.
Zambia is a country on the rise, but while its economy has been developing, only 25% of the population has electricity access. In fact, power supply and generation have remained stagnant over the past three decades, leading to a national power shortage.
Supporting power infrastructure and growth ambitions, the Dutch company Royal SMIT Transformers is growing in the region. Mammoet was asked to execute a two-phase factory-to-foundation project for SMIT that ultimately improved the lives of thousands of Zambians.
In phase one, Mammoet was commissioned to move four of ten transformers to Zambia's Kafue Gorge Upper Power Station, a major hydroelectric facility, powering over 40% of Zambia's homes and lives. In phase two, the final six transformers were transported and installed. The journey covered 11,000 km from the Smit factory in Nijmegen, The Netherlands, via Antwerp to Kafue Gorge in Zambia.
Based on the experience in the project's first phase, Mammoet thought it's possible to save time by optimizing the route – especially over border crossings, where most delays can happen. Following an extensive route survey, the logistics team chose an alternative entry point in continental Africa – via Walvis Bay, Namibia. This meant only one border crossing compared to three crossings in the first phase and, hence, more control over the project timeline.
At Kafue Gorge, the transformers had to be taken to their installation point, 1.2 kilometers inside the mountain. Offloading and laying down required careful planning and absolute precision – space was limited and at certain moments there were only five centimeters of overhead clearance. To optimize the operation, a detailed plan was made to position each transformer during each stage of the exchange process.
As there was no storage in the main hall, it was one transformer out, and one in, in a delicate operation. A tailor-made lifting frame enabled the slings supporting the transformers to be set straight, making the lift safer, while the transformers were set on rails. The new transformers were ushered into place, and pulled by a truck along the rails into the transformer hall to their final cell.
Ultimately, the transformers were installed smoothly and without a hitch. Power up gave Zambians a much greater and more reliable electricity supply, and the country is now set for the next phase of its growth trajectory.