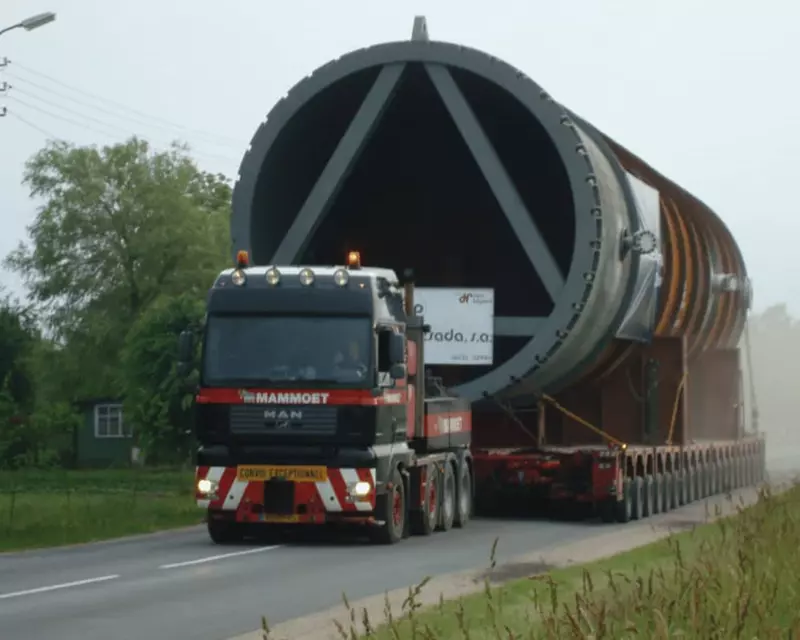 Mammoet has been awarded the contract for the transportation of an 1800-ton reactor for the new PC ORLEN Lietuva facility in North-west Lithuania.
Come August 2023, the 100-meter-long, 6.5-meter-wide, and 10-meter-tall (vehicle sizing) transport configuration will be transferred approximately 150 kilometers on public roads from the Port of Klaipėda to the Mažeikiai Refinery.
Once the unit arrives at the port, it will be lifted off the seagoing vessel and onto 88-axle lines of conventional trailers, which will then execute the operation from port to site. Therefore, with a piece of this size, the most challenging part is not selecting the equipment but preparing the route. For example, Mammoet requires tailored solutions to cross bridges and culverts or to maneuver a unit this long around tight corners – and it needs dozens of these custom solutions throughout the 150-kilometer route.
Having enjoyed a longstanding relationship with PC ORLEN Lietuva, including completing a heavy transport project along a similar route as far back as 2008, Mammoet was asked in 2019 to undertake a study to clarify potential routes for a cargo of this size. This required Mammoet to review all options for transferring the reactor from the port to the oil refinery for PC ORLEN Lietuva to assess and then decide on the optimal transportation solution. After completing the study, Mammoet has now been awarded the contract for the transport job.
PC ORLEN Lietuva General Director, Michal Rudnicki, said this: "At EUR550 million, the development of, and construction of a new facility, at the Mažeikiai Refinery marks one of the largest private Polish capital investments in Lithuanian history, with the funding bringing vital work, jobs, resources and expertise into the local economy. The transportation of the 1800-ton reactor marks the largest milestone in the construction of the new hydrocracking facility, and this places great importance on the outcome of Mammoet's work."
Mammoet Russia, Baltic and Finland Sales Director, Edvinas Ivanauskas, comments: "ORLEN Lietuva's decision to collaborate with us directly on both the study and the job demonstrates confidence in our local knowledge and relationships, along with our heavy lift and transport expertise. Preparing a 150-kilometer route is highly complex, and we take it as a big compliment that ORLEN trusts us with this responsibility." He continues: "At Mammoet, we expect this trust to grow further so that we can deliver even larger jobs for the company in the Baltics region."