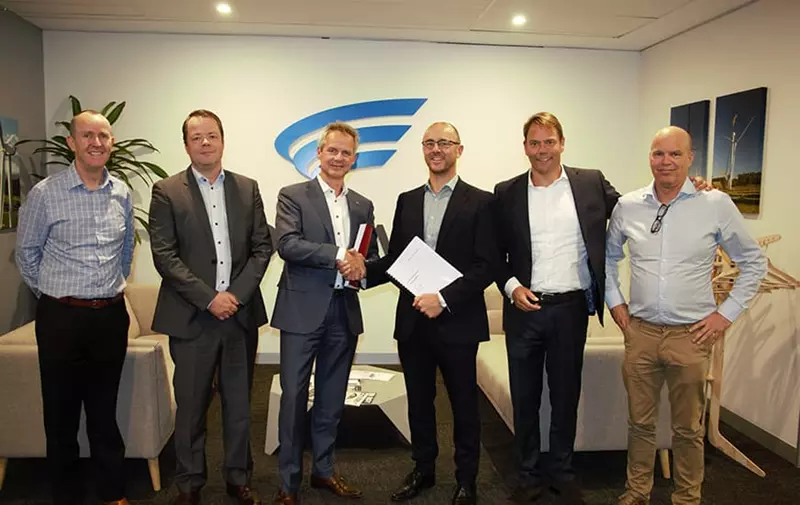 Expertise:
Heavy lifting

Heavy transport
Unique track record in wind turbine installations as well as the scale of Mammoet's fleet decisive in Goldwind's choice.
Mammoet is pleased to announce a partnership with Goldwind Australia. The contract signing has taken place on Thursday 13th September 2018 for a Multi-year Framework Agreement with all contract terms and conditions agreed upfront, providing Goldwind Australia the option to select Mammoet for its future wind farms in Australia. Mammoet has already installed a project team in Melbourne to commence operations. The first projects that are planned will comprise a total of 253 Goldwind Wind Turbine Generators (WTG's) in Victoria.
Goldwind Australia, a subsidiary of the Chinese wind turbine manufacturer has started construction on the 530MW Stockyard Hill, considered to be the largest wind farm in Australia. This wind farm has a long-term power purchase agreement (PPA) with Origin Energy. The wind farm is located in Western Victoria. It will comprise of 149 Goldwind turbines, producing clean electricity for approximately 391,000 Victorian homes each year.
Goldwind has a large pipeline of wind projects in Australia and therefore was looking for a partner that could provide the necessary expertise and sufficient resources at the required scale, to secure safe and timely execution of transport, lifting and installation services. As Mammoet's track record comprises the most wind turbine installations worldwide, Mammoet and Goldwind started exploring the options for a partnership as early as 2017.
Mammoet will commence with offloading the first WTG's for Stockyard Hill in early October 2018 and will provide offloading and pre-assembly services, as well as full mechanical and electrical completion works. Mammoet is unique in offering a combined Crane and Installation scope resourced by its own professionals.
For the purpose of this agreement, Mammoet has extended its Australian crane fleet with two new LG1750-SX cranes. Further investments will be made in all Terrain support cranes, trucks, trailers, and auxiliary equipment. Mammoet has the largest crane fleet in the world, a significant part of which is currently operating in Australia.
According to Mr. Vincent Vingerhoeds, Business Development Manager Renewables at Mammoet, this is a major step for Mammoet. The global market leader in engineered heavy lifting and transport has been active in Australia since 1998 and has installed approximately 1.5GW of wind turbine power generation capacity.