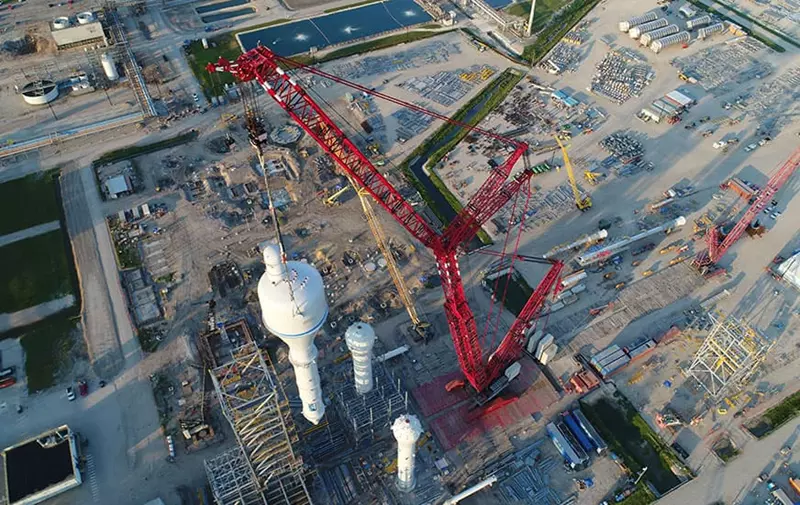 Expertise:
Load-in & load-out

Heavy transport
Benefits:
Increased safety

Simplified management
Scope includes heavy lift and installation of major pieces for Blade Project.
Mammoet is pleased to announce it has been awarded the heavy lift and transport scope for a Beaumont, Texas refinery expansion planned to increase crude refining capacity by more than 250,000 barrels per day. The project is expected to create up to 1,850 jobs during construction and the anticipated completion of the unit is planned for 2022.
Under the agreement, Mammoet will be responsible for the barging, transporting, and setting of modules up to 3 million lbs., as well as several reactors and columns weighing up to 2.5 million lbs. The pieces will be transported by means of SPMT, and later set using Mammoet's LR 13000, the largest crawler crane in the world.
John Rowe, Project Sales Director for Mammoet Americas, states, "We are extremely pleased to have the opportunity to share our expertise and experience for the upcoming Blade project. The heavy lift and transport development strategy we have shared with TechnipFMC and ExxonMobil will allow us to provide an efficient solution and offer the best possible execution strategy for this project. We are very thankful for the opportunity and are eager to build upon our methods to ensure we perform above expectations for our customers. "
Mammoet has broad expertise as an industry leader in safely delivering services to major refinery upgrades and modernizations not only in the USA but also worldwide in various countries including Poland and Spain.