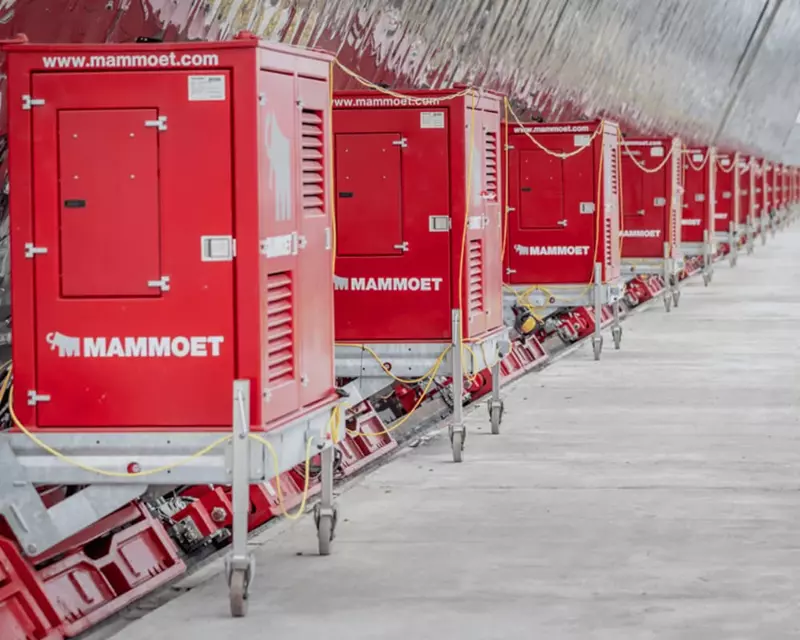 Benefits:
Increased safety

Protected infrastructure

Record breaker
The confinement is the largest land-based movable structure in the world.
Mammoet finished skidding the New Safe Confinement over the reactor building of the Chernobyl Nuclear Power Plant in Ukraine. Clever engineering has helped install the arch-shaped construction over the destroyed reactor building. The confinement is the largest land-based movable structure in the world. The installation of the New Safe Confinement marks the successful conclusion of this highly prestigious construction project for Mammoet. Mammoet moved the New Safe Confinement at the request of Novarka – the joint venture responsible for the construction of the arch.
Innovative skidding
Mammoet skidded the arch from its construction site to the reactor building using a skidding system that has been specially designed for the project. The innovative and award-winning skidding system is fully remote-controlled and consists of 116 skid shoes with an average capacity of 700 tons each. The skid shoes were completely synchronized on both sides of the structure to ensure a smooth and even operation. The tracks of this system were installed at a 33-degree angle to optimize the load transfer onto the foundations.
About the New Safe Confinement
The New Safe Confinement replaces an old shelter that was installed as an emergency measure to contain the radioactive materials in the destroyed unit shortly after the disaster in 1986. It provides a controlled and weatherproof environment where the solid radioactive remains of the destroyed unit can be held for the next 100 years. At 165 meters long, 260 meters wide, and 110 meters tall, the arch could house the Statue of Liberty or the Notre Dame Cathedral. With a weight of approximately 36,200 tons, the shelter is about three times as heavy as the Eiffel Tower.
Constructing the arch
Mammoet also conducted all the jack-up and skidding operations during the construction of the arch - a highly challenging task requiring new approaches in engineered heavy lifting and transport. The arch was built in two parts at a 'special erection area' – a decontaminated area at safe distance from the reactor. Each half of the arch was elevated during three jack-up operations, allowing crews to work at lower heights, increasing cost-effectiveness, and improving operational safety. After construction of the first half was finished, it was skidded into a special parking area, clearing the area for the construction of the second half of the arch. Upon completion of the second half, the two parts were connected by skidding the first part towards the second part.
Joint venture
The arch was built by contractor Novarka, a joint venture between VINCI Construction Grand Projets and Bouygues Travaux Publics. The joint venture partners asked Mammoet to come up with a safe way to lift and skid the arch from the assembly site to its destination.