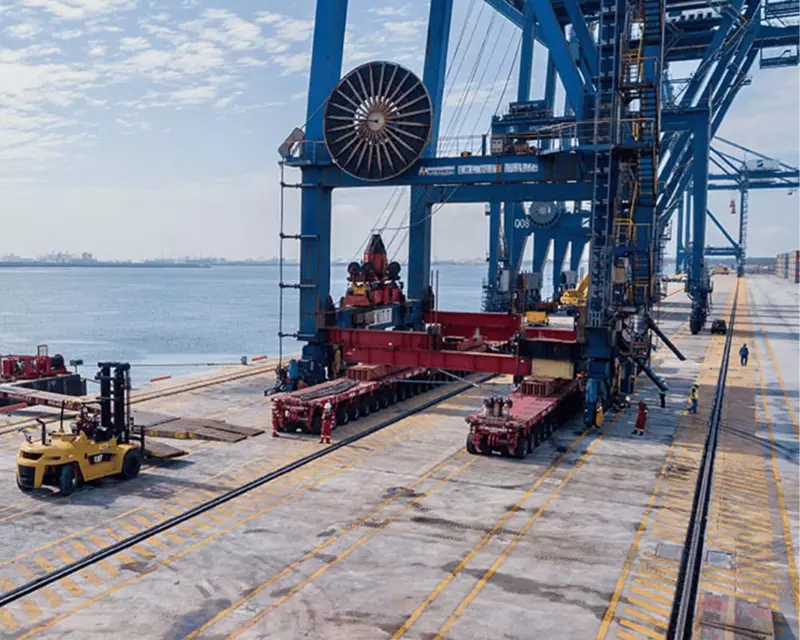 Expertise:
Heavy transport

Load-in & load-out

Marine transport
Crane relocation services will increase port's capacity to over 95 million tons.
Mammoet crews in Veracruz, Mexico recently relocated several shipping container cranes for client Hutchison Ports ICAVE as part of a planned port expansion. This is one of the most important maritime infrastructure projects for Mexico in recent years.
The capacity of the port has nearly tripled from approximately 24 million tons of cargo to 66 million due to the arrival of the new cranes and an investment of approximately 31 billion pesos (USD $1.6 million) for the upgrade. In phase one of the project, Mammoet transported three Ship-to-Shore (STS) cranes and 18 Rubber-Tired Gantry cranes (RTGs). The completion of the second phase of crane relocations later this year will bump capacity to more than 95 million tons.
The heaviest STS crane, weighing 1,365-ton, was loaded onto two trains of 28 axle-lines of SPMT, rolled onto a waiting barge, and sailed a total of four miles from the old port location to the new location where the expansion is taking place. Eight of the RTGs were moved in the same way, with the heaviest RTG weighing in at 197 tons. Once at the new location, the cranes were offloaded and ready for use. The remaining STS cranes and RTG cranes will be transported in December.
Mammoet has global expertise in transporting these specialized cranes, following a history of completing similar moves all over the world.