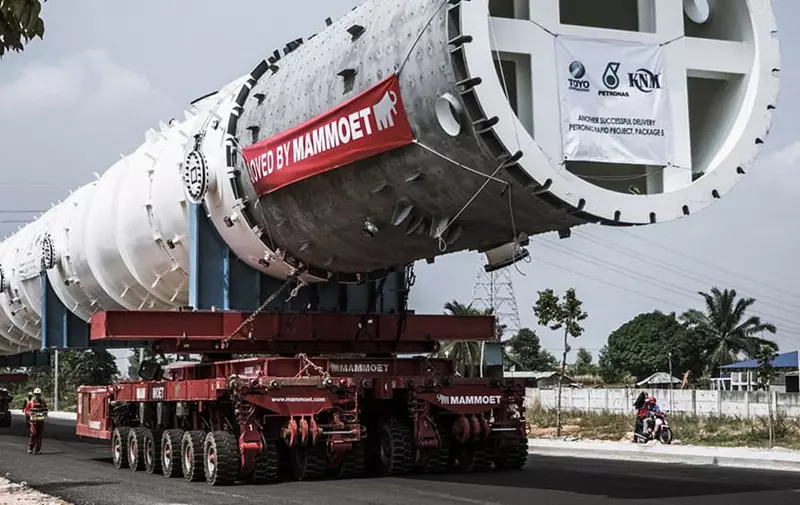 Expertise:
Heavy transport

Load-in & load-out
Delivery of key components for PETRONAS begins with safe transport of three steam cracking modules.
Mammoet has begun the delivery of components for the Malaysian fully integrated oil and gas multinational Petroliam Nasional Berhad's (PETRONAS) RAPID project within its Pengerang Integrated Complex (PIC) in Malaysia. Thirteen columns, in total, will be transported from the equipment manufacturer, KNM Group Berhad in Melaka, to PIC development site. On Saturday, March 26 Mammoet safely and successfully transported the first three of these columns for KNM Group.
Mammoet is transporting the steam cracking modules for the RAPID project. These columns are moved 20 kilometers on SPMTs from KNM's manufacturing point to the quayside at Melaka where a load-out operation takes place. From there they are transported by barge to the Material Offloading Facility (MOLF) at Tanjung Setapa for the load-in procedure. The columns measure 76 meters in length and 4.2 meters in diameter with a combined weight of about 540 metric tons.
MOLF Tanjung Setapa consists of two jetties with three berthing facilities to receive Super Heavy Lift Oversized (SHLO), Heavy Lift Oversized (HLO) and break bulk cargos. Alongside Tanjung Setapa, another MOLF port in Teluk Ramunia will also be dedicated to serving the needs of RAPID project. Together, both ports are estimated to handle around four million tons of cargo over the next three years.
Following the transport, the official opening ceremony of the Tanjung Setapa facility took place to commemorate the arrival and handling of its first safe and successful transport. The ceremony was officiated by Ir Dr. Colin Wong Hee Huing, PETRONAS Senior Vice President and Chief Executive Officer of PETRONAS Refinery and Petrochemical Corporation Sdn Bhd (PRPC), and attended by senior representatives from PETRONAS, Toyo Engineering Corporation, KNM, Johor Ports and Mammoet.
Following the initial transport of these three columns, Mammoet has ten more columns to transport, load out, barge and load in. These will be moved over the next three months.