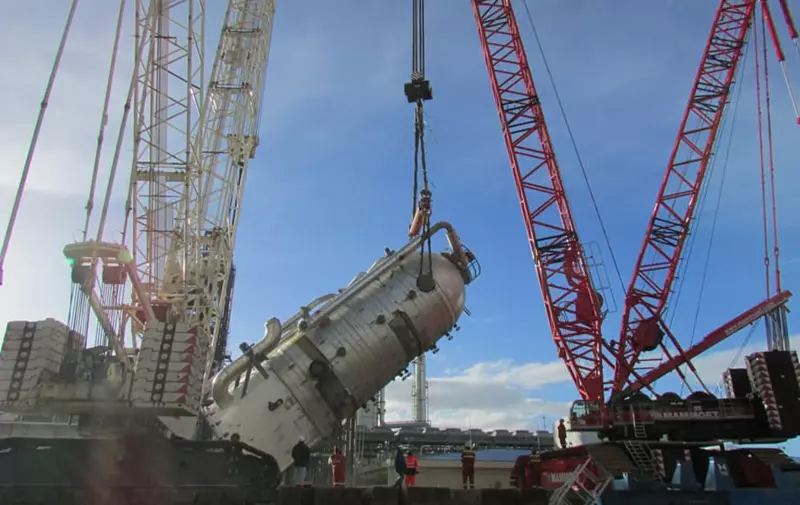 Expertise:
Heavy lifting

Heavy transport
Benefits:
Optimized schedule

Simplified management

Protected infrastructure
The plant was moved from the most southern part of Chile to Louisiana, USA over a distance of 8,720 kilometers (5,450 miles).
Methanex Corporation, the world's largest producer and supplier of methanol, announced plans to relocate two of its methanol plants from Chile to Geismar, Louisiana. Relocation, as compared to a new build, offers significant capital savings and a reduced project timeframe.
Mammoet, in close cooperation with Jacobs Engineering, supported Methanex in achieving these savings by delivering an integrated package of services, lifting and moving almost 400 heavy components and modules and setting them up for reassembly.
First, Mammoet supported Jacobs with the design of the modules so that they would be compatible with Mammoet's equipment, the ships and bottlenecks along the route. After the modules had been disassembled and reinforced, they were moved from their remote Chilean location to their new US home, along with many heavy components. All components and modules had a combined shipping volume of more than 157,000 freight tons (12,145 metric tons).

At certain points along the route, Mammoet had to engineer and construct special roads and bridges to facilitate exceptional transport. There were many other challenges, including loading and sea fastening in the Straits of Magellan, an area notorious for strong currents and sudden storms.

Another challenge was offloading in Louisiana, where the Mississippi River levee was crossed via a specially engineered and constructed bridge - the soil conditions required a customized design for the bridge and its foundations.

Mammoet managed subcontractors, secured the necessary permits and maintained full oversight over the transport operation for the project's duration. Its longstanding relationships with suppliers and contractors as well as regulatory and governing bodies in both countries were critical in achieving an efficient, customer-responsive process.

Methanex's Geismar I plant is targeted to be operational by the end of 2014.