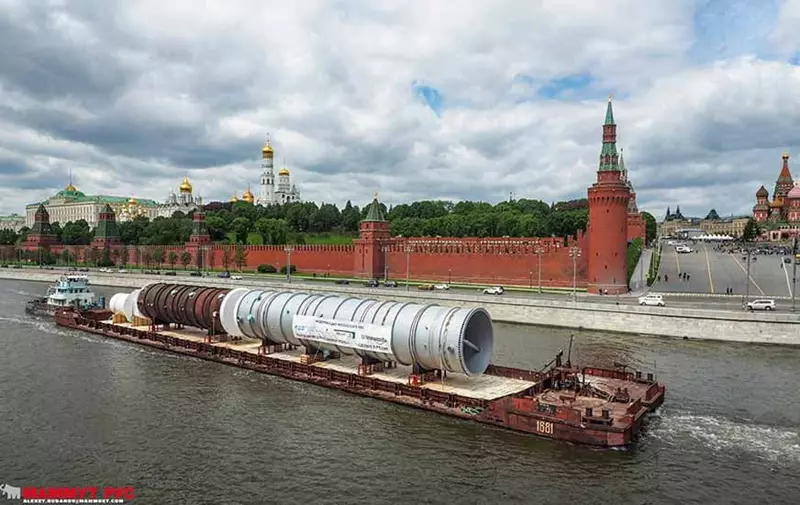 Expertise:
Heavy transport

Load-in & load-out
Benefits:
Simplified management

Protected infrastructure

Increased safety
Construction of the new complex will provide additional stability in fuel supplies for Moscow into the future.
Mammoet has successfully completed the safe delivery of two heavy and oversized columns to Gazprom Neft Moscow Refinery for the construction of their new combined Euro+ facility in Moscow.
A vacuum column and an atmospheric distillation column will become part of the primary refining unit, which will be used for producing Euro-5 fuel components. Transporting the columns from their fabricators' premises in Petrozavodsk and Volgodonsk presented a sizeable challenge. Mammoet planned and implemented a complex logistics chain involving multiple transport methods to deliver the columns safely and on time.
Each column was more than 50 meters long and weighed up to 700 tons. In order to facilitate transportation, the columns were delivered in several sections. Although the fabricators were located in opposite parts of Russia, the columns met similar obstacles on their routes, due to their unique dimensions and weight. The comprehensive approach that Mammoet developed included road transport up to the jetties in Petrozavodsk and Volgodonsk, water transport by barge and subsequent delivery to the Moscow Refinery site.
The vacuum column, which was 12 meters in diameter, was transported in seven sections of seven meters and demanded full road closures and execution at night. The atmospheric distillation column was transported in three sections, the maximum over 30 meters long. Along all land routes, Mammoet specialists turned off, elevated, and dismantled power lines and urban lighting systems to provide a safe passage through. These were swiftly reinstalled once the road was cleared of vehicles. Mammoet carefully met all requirements of road safety for heavy and oversized load transport.
From the jetties, each column was loaded onto a barge and delivered by the river to the berth in Besedi, 17 kilometers from their final destination. They were unloaded by the RoRo method, a ballasted roll-on, the roll-off operation performed without cranes. From there they were transported to the site by modular trailers.
Through careful planning, route preparation and safe execution Mammoet overcame the logistical challenges to deliver the columns to the Euro+ facility site, safely and well on time for the construction of the facility to continue.