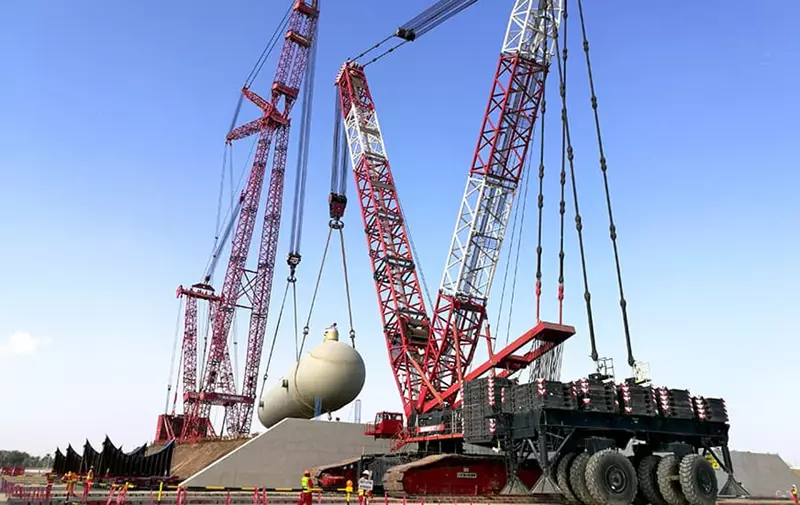 Expertise:
Heavy lifting

Heavy transport

Crane lifting
Benefits:
Reduced preparation

Increased safety
Mammoet has successfully completed the safe transport and installation of four 1180-ton NGL bullet tanks for Oman's biggest petrochemical project.
The bullets, each measuring 60 meters in length and 7.8 meters in diameter, were positioned on sand beds in a synchronized tandem lift utilizing a 1600-ton PTC ring crane and a 1200-ton crawler crane. The small footprint enabled the PTC35-DS crane to work within the limited area on site utilizing the available space as efficiently as possible.
Mammoet has been providing ongoing heavy lifting and transport solutions for this petrochemical project since 2017 and contributed to the outstanding safety milestone of 10 million man-hours worked lost time injury (LTI) free.
Andrew Lees, SHEQ Director Mammoet Middle East and Africa, said "The achieved safety milestone is a testament to the incredible team that has been put together by our valued client. Commitment to safety is a core value and an integral part of Mammoet's culture. With every workforce member staying focused on incident-free operations we can send everyone home safely to their families each day."
About Liwa Plastic Industries Complex (LPIC):
Upon commissioning in 2020, Liwa Plastics Industries Complex will transform Orpic's product mix and business model, double the company profit, create new business opportunities, generate significant employment opportunities and support the development of a downstream plastics industry in Oman.
Following this commissioning, plastics production is forecast to have increased by more than 1 million tons, giving Orpic a total of 1.4 million tons of polyethylene and polypropylene production. With the highly integrated complex in Sohar consisting of Orpic's Refineries, Aromatics plant, Polypropylene plant, steam cracker and the downstream Polypropylene and Polyethylene units, the operation will be considered one of the finest integrated refinery and petrochemical facility combinations in the world and will achieve the maximum value-added for Oman's hydrocarbon resources.