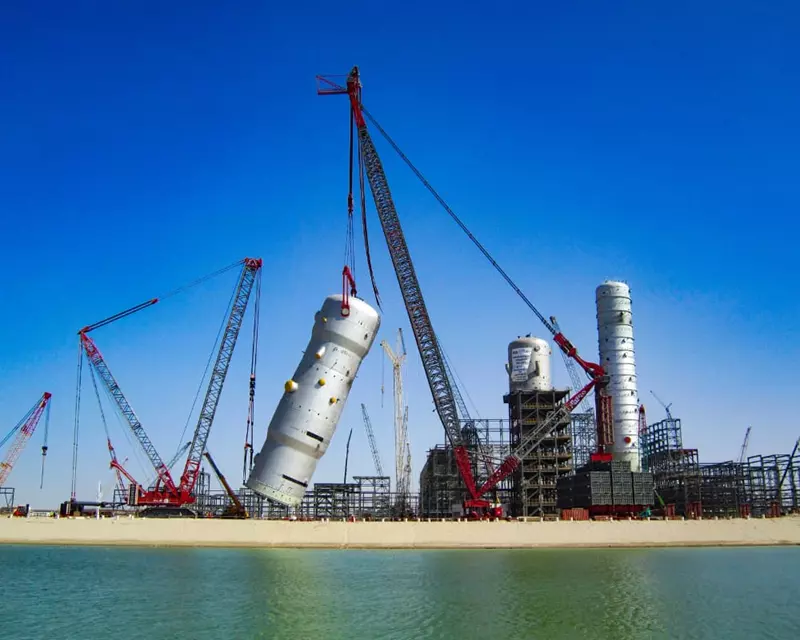 Expertise:
Crane lifting

Marine transport

Heavy lifting
Benefits:
Optimized schedule

Reduced preparation

Flexible operations

Simplified management
Mammoet is proud to support several work packages for the Ruwais Refinery Expansion Project.
Our knowledge of the Abu Dhabi project cargo logistics infrastructure and permit regulations, such as CICPA, along with the expertise in ensuring all aspects of transport work is seamlessly integrated and delivered reliably are the main reasons for multiple project successes in Ruwais.
For RRE Package 2: RFCC and Associated Refining Units we worked for GS Engineering & Construction to perform the integrated Roll-on and Roll-off (RO-RO), land transport, marine transport and installation of over 300 heavy and oversized components. The components included a 1,683t C3 Splitter, a 1,145t reactor, a 1,238t main fractionator and a 1,934t regenerator.
This began with thorough planning based on our experience of delivering similar projects in Abu Dhabi, using our knowledge of both permitting and working smoothly with all relevant authorities. Engineering studies were undertaken, including transport method statements, lifting plans/rigging analyses/lifting method statements and detailed marine transportation analysis including barge ballasting and sea fastening analysis and specification.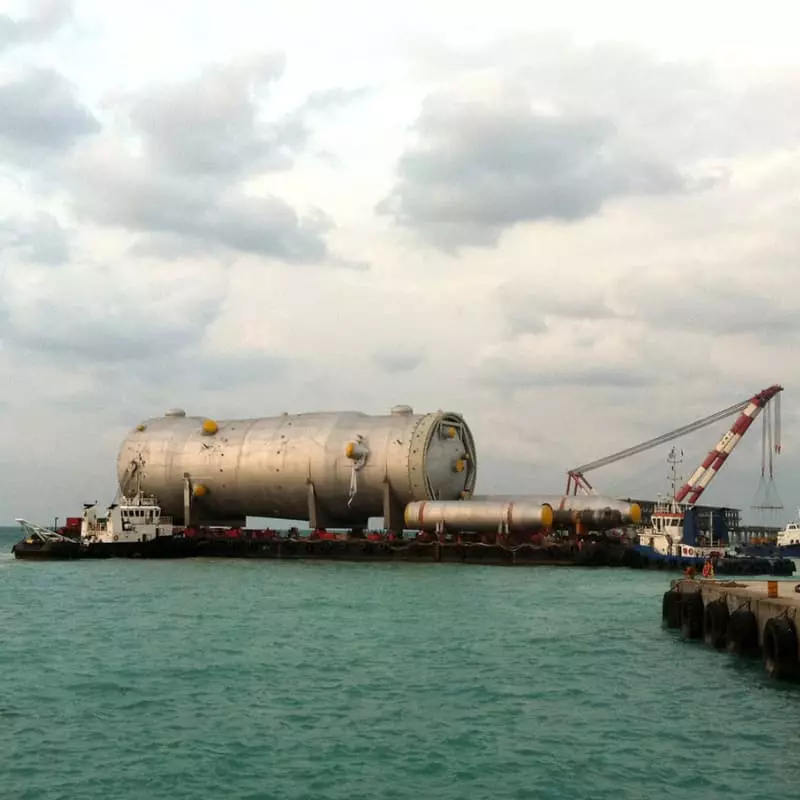 Components were received under ship's hook upon arrival at Mina Zayed Port, onto SPMTs – with 170 axles used in total. Mammoet's 250 and 300 class barges were used for marine transshipment of the project cargo to either RRE #7 temporary jetty or Ruwais Industrial Area Service Harbour (RIASH) jetty; with a total of 36 barge trips.
The components were then delivered to a designated laydown area or directly to crane hook for installation.
For the transport of particularly long vessels, such as 107m long C3 Splitter, where maneuverability on the route is essential, Mammoet utilized its 3,000t capacity bolster system.
This bolster allows the load to be supported on two turntables and offers greater flexibility to negotiate obstacles on the route such as sharp corners and roundabouts.
Installation on site was executed using the 4,300t capacity SK190 crane with crawler cranes for tailing. The SK190's 141m main boom and variable lift radius meant that items could be lifted onto their foundations from a single position, saving significant time by minimizing the need to demobilize and relocate the crane between lifts.
Other heavy lifts for components such as absorbers, debutanisers, main fractionator overhead drums, water wash columns and deisobutanisers were carried out using a 1,600t capacity crawler as the main lift crane supported by 600t and 250t capacity crawler cranes as tailing cranes.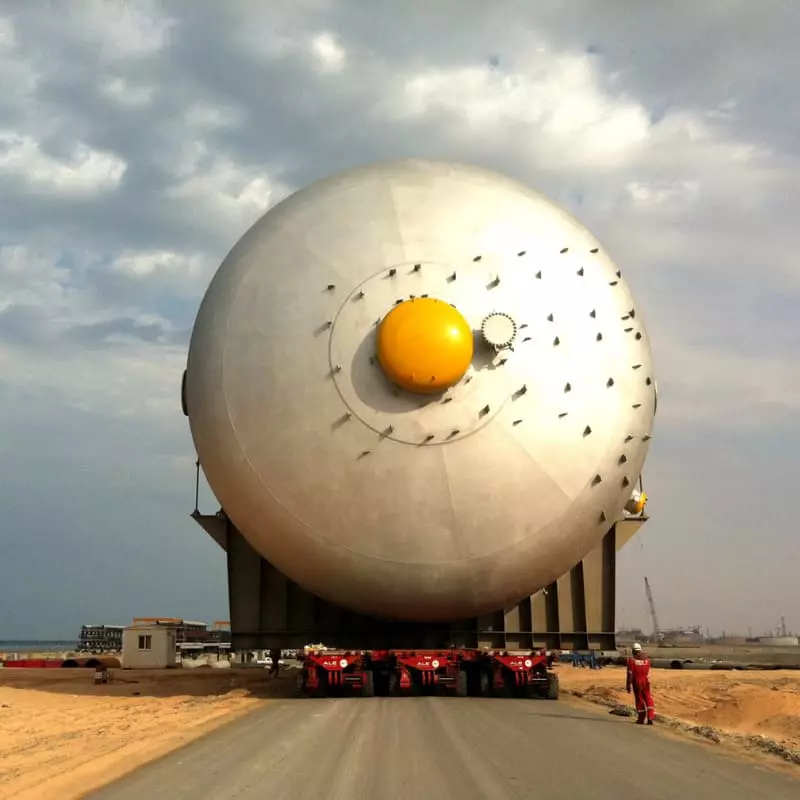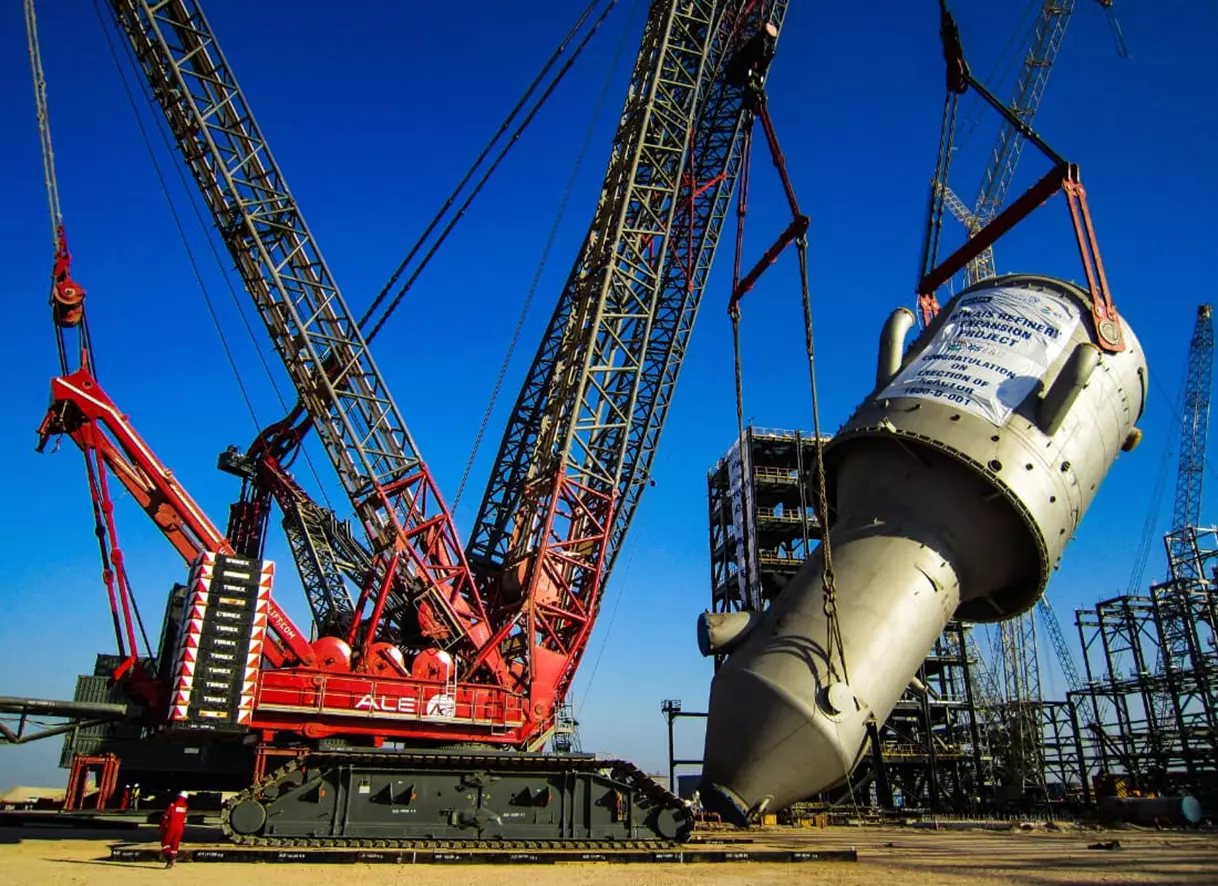 RRE Package 7 also demanded integrated land and marine transport and again began with comprehensive planning to ensure efficient delivery. Mammoet moved 30 pipe racks, each weighing 180t, one lifting frame and eight buildings, weighing up to 600t, from the Denholm Yam fabrication yard to its jetty, then via marine transport on the 300 class barge to Ruwais. SPMTs were used to undertake the movements, allowing efficient load-in and load-out at either end of the ten barge journeys using RO-RO methods.
Thomas Wylie comments: "Our previous work for RRE demonstrates the extent of our capabilities in terms of handling multiple specialist disciplines within projects – and most importantly how our knowledge of delivering work in Abu Dhabi plays a critical role in making sure clients receive the most reliable and efficient service."