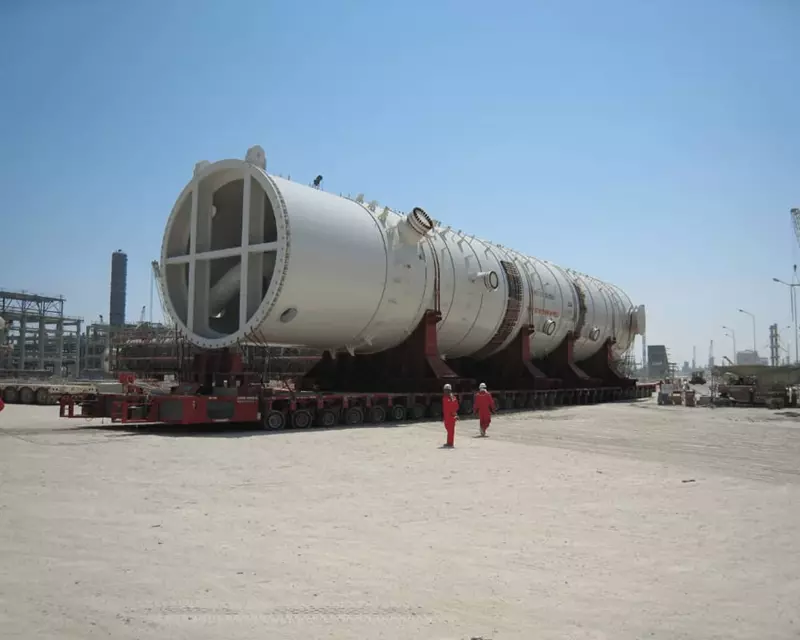 Expertise:
Heavy transport

Heavy lifting

Crane lifting
Benefits:
Optimized schedule

Reduced preparation

Flexible operations

Simplified management
In 1971, natural gas was discovered in the North Field; a 6,000 sq. km area off the northeast coast of Qatar.
Following multiple drilling appraisals, in the mid-1990s Qatar invested to develop its port facilities and associated infrastructure at Ras Laffan, to facilitate the exploration, storage, and export of this massive natural gas resource.
Over the course of 16 years, from 1994 to 2010, 14 LNG trains were constructed using a stick-built method. Mammoet supported the construction of all 14 trains, as well as the debottlenecking of three QatarGas trains, working under the main EPCMs: Chiyoda Corporation, Chiyoda – Technip JV, Chiyoda – Snampogetti JV, and mechanical contractor CCC.
Mammoet was engaged as a heavy lift and transport contractor, responsible for receiving, transporting, and installation of components for process, utilities, and offsite LNG and condensate storage areas. The company's extensive experience in Qatar and in-country resources were critical to achieving impressive feats of engineering in the lifting and transportation of these oversized assets.
Throughout each construction project, Mammoet managed the full transportation scope of all heavy and over-dimensional cargo - weighing up to 1,500t - from Ras Laffan Port to temporary laydown areas, then from laydown to the project sites for installation. The safe delivery of each component required careful planning, coordination, and full knowledge of the local regulations and infrastructure of the Ras Laffan Industrial City.
Detailed surveys and selection of appropriate routes and entry gates were needed through the years, to ensure the safe delivery of the valuable cargo, as well as the safe handling and haulage through Ras Laffan Industrial City's corridor. Mammoet's engineering expertise was used to establish alternative routes for some major components, such as amine absorber columns, demethanizers, and Feed Gas KO drums, due to the sheer size of these components.
Later commissions included working on debottlenecking programs to expand the capacity of trains by replacing and upgrading key process equipment such as compressors and turbines. Through CCC, Mammoet was also contracted to complete all the heavy transport and lifting erection works up to 750t with the use of twin-ring cranes.
Through carefully planned and executed transport and lifting operations and close collaboration with EPCs, the facilities came into production on or even ahead of schedule. At the forefront of Mammoet's daily operations was our commitment to safety, which contributed to various safety milestones achieved throughout the construction. So much so, that Mammoet was awarded with a certificate of appreciation by Ras Laffan Port.
This work has required the use of a huge selection of Mammoet's in-house fleet of specialized equipment. This has included SPMTs, conventional trailers and trucks, cranes with a range of capacities including crawler and ring cranes, and the company's proprietary hydraulic gantry system.
The sheer size of this scope cannot be overestimated. During this 16-year span of work, Mammoet's work helped to increase the production capability at Ras Laffan by dozens of MTPA. This included the following program of work for the QatarGas and RasGas projects:
QatarGas LNG Trains:
QatarGas 1: trains 1,2 and 3 of 3.2MTPA each (after debottlenecking)
QatarGas 2: trains 4 and 5 of 7.8MTPA
QatarGas 3: train 6 of 7.8MTPA
QatarGas 4: train 7 with a capacity of 7.8MTPA
RasGas LNG Trains:
RasGas I: trains 1 and 2 of 3.3MTPA each
RasGas II: trains 3, 4 and 5 of 4.7MTPA each
RasGas III: trains 6 and 7 of 7.8MTPA each