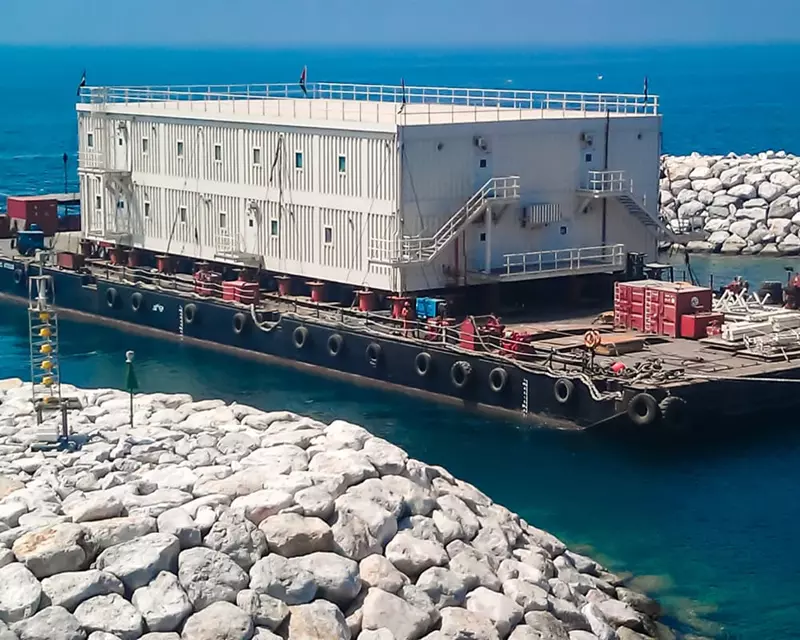 Expertise:
Heavy lifting

Heavy transport

Marine transport
Benefits:
Reduced preparation

Optimized schedule

Flexible operations

Simplified management
Having worked in Abu Dhabi for five decades, Mammoet has played a part in numerous key projects.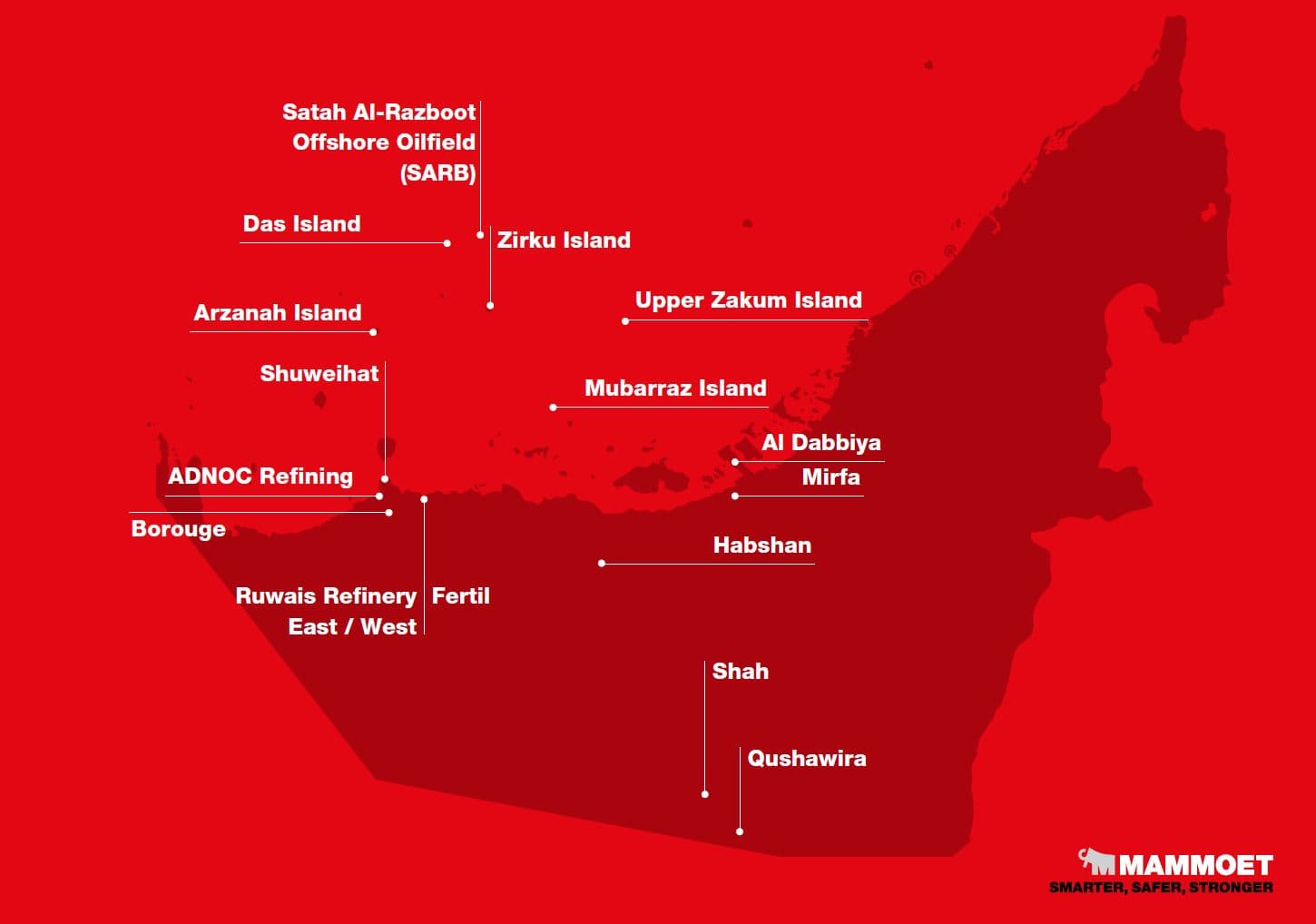 BOROUGE 2, 3 AND 5
Mammoet successfully completed the receipt, land and marine transportation and installation of all components for the construction of the Borouge 2, 3 and 5 petrochemical production plant. The project cargo was received by RORO at Mina Zayed Port, offloaded and then loaded out onto Mammoet's 300 class barge for marine transportation to RIASH Jetty. Following load-in operations, all project components were transported over land via SPMT to their foundation locations. SPMTs were then used for installation in situ.
RRE2 PROJECT
A bespoke solution utilizing Mammoet's 4,300t capacity SK190 crane was needed to ensure a number of large, heavy components could be lifted into position for the construction of a new build residual fluidizer catalytic cracker unit (RFCC). This included lifts at different locations across the existing refinery site, which meant that the SK190's compact footprint and efficient mobilization and demobilization times were a distinct advantage in minimizing disruption to other work.
A 1,600t capacity crawler crane (CC8800-1) was used as a tailing crane for the SK190 during the lifting of seven components, including a 1,100t reactor, a 1,200t main fractionator and a 1,900t regenerator. The CC8800-1 was then also used to complete 92 other smaller lifts as part of the project.
UZ 750 PROJECT
Nearly 100 different modules, measuring up to 50m long and weighing up to 4,700t, needed to be transported from fabrication yards across the Arabian peninsula to the UZ750 project site, 84km offshore Abu Dhabi. With pipe racks, process modules, buildings and substations to be moved, a combination of techniques was required to deliver the project effectively. This included weighing, land and marine transportation, including load-ins and load-outs, and installation.
Mammoet was able to make good use of an extensive equipment fleet readily available in the region to ensure work could be executed in a timely fashion. At the project's peak, 252 axle lines of SPMTs were in use along with weightors, conventional trailers and external/internal ballast systems.
SARB 4
A comprehensive range of engineered heavy lifting and transport expertise and equipment was needed to ensure numerous pipe racks, process modules and substations were delivered on schedule to the SARB4 project site located 140km offshore Abu Dhabi. Cargo needed to be collected from Mina Zayed port and various fabrication yards in the region, then transported to Zirku Island.
The activities included weighing, land and marine transportation, ballasting and sea fastening, as well as lifting and installation. With the components, weighing between 170t and 1,700t, a flexible range of equipment was needed to ensure all could be handled safely and effectively. To do this, Mammoet's large crawler cranes were deployed alongside the company's barges, SPMTs and other specialist equipment.
SHAH GAS
Mammoet delivered the full land transportation scope for the Shah Gas Development Program, which required moving more than 120 components weighing up to 1,340t each. The only viable route for the items was to exit Mussafah Industrial City, onto the E30 highway, onto the E11 highway, then to Hameem Road onwards all the way to the Shah Project site. However, this 240km route presented challenges, not least that there were three 7% gradient hills that need to be safely negotiated.
Existing infrastructure challenges with over twenty concrete culverts covering irrigation and major gas pipelines also needed to be overcome, where these sections of the road were not strong enough to support the loads being carried. This was dealt with in agreement with Abu Dhabi's Department of Transport to reinforce the existing culverts by propping and using steel mats to bridge over the existing culverts.