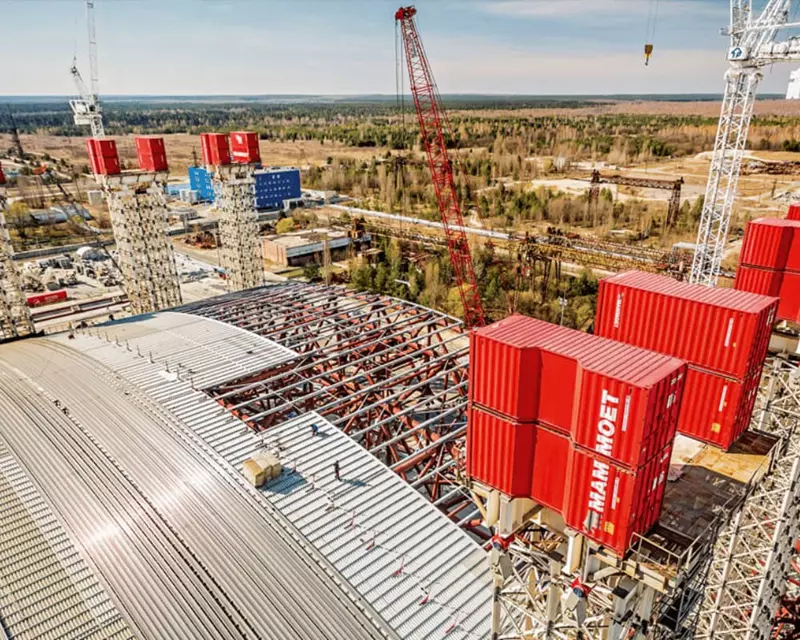 Expertise:
Heavy lifting

Skidding

Jacking
Benefits:
Protected infrastructure

Increased safety

Record breaker
Making the world a safer place through clever engineering. In 1986, an explosion at the Chernobyl Nuclear Power Plant resulted in one of the worst nuclear disasters in history.
Shortly after the accident, an emergency shelter was placed over the destroyed reactor. Built with great haste, this structure would eventually have to be replaced by a more permanent solution.
Mammoet was asked to aid in the construction and installation of the new arch-shaped safe confinement, the largest land-based movable structure ever built. It was Mammoet's task to lift, skid, and install the 36,200-ton shelter from its construction site to its destination for the next hundred years.
To provide a clean and safe working area, the construction site was located 330 meters from the reactor and a new foundation was laid. It allowed personnel to work continuously and save construction time.
The confinement was built in two halves by Novarka. At 165 meters long, 260 meters wide, and 110 meters tall, it is big enough to house Paris' Notre Dame Cathedral. An innovative approach and tailor-made equipment were needed to deal with such size and weight and deliver it with millimeter precision.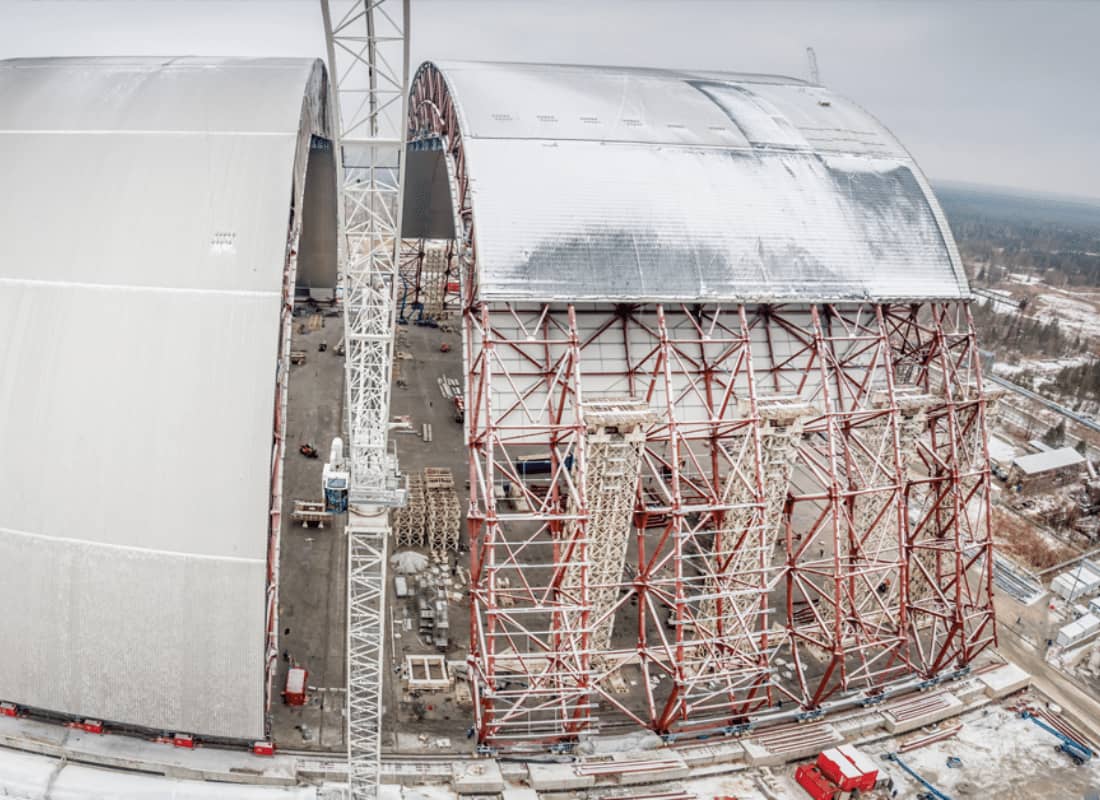 Mammoet developed a lifting system and software to control 56 strand jacks simultaneously and a skidding system consisting of 116 skid shoes with a capacity of 700 tons each. With both sides of the skidding system 260 meters apart, the movement was fully monitored, controlled, and synchronized. Each half of the arch was lifted in three stages, allowing the crew to work at lower heights, increasing efficiency and safety. At each stage, elements were added before raising the arch further.
Once the first half was raised, it was skidded away to make room for the assembly of the second half. Upon completion, the first one was skidded back to the construction area where both halves were connected to finalize construction. In November 2016, Mammoet skidded the complete arch 330 meters and over the reactor building.
Mammoet's approach had many advantages. Only half the jacking capacity was needed compared to raising the arch in one piece, greatly reducing costs. Efficiency and safety were further increased by elevating each half in three jacking operations.
Last, but not least, Mammoet's remotely operated equipment prevented the crew from having to work in the contaminated area, making this project a textbook example of safe, efficient, and out-of-the-box engineering.