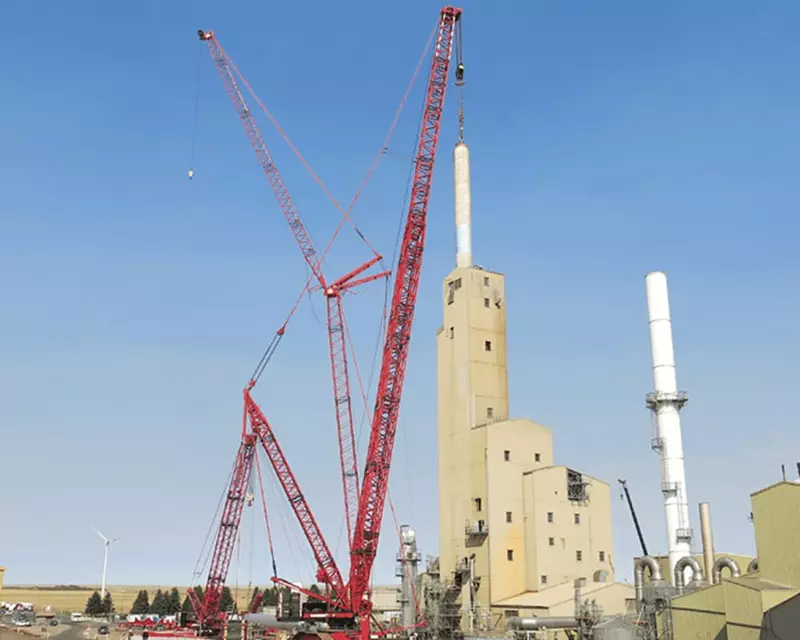 Expertise:
Crane lifting

Heavy transport

Skidding
Benefits:
Reduced preparation

Optimized schedule

Reduced preparation

Simplified management
Creative thinking and the right equipment minimize downtime.
A fertilizer company in Southern Alberta, Canada, was updating and replacing aged components from the 1970s in their nitrogen complex. The main item that needed replacing was a reactor vessel, which assists in creating urea to create fertilizer.
The new vessel was made in Austria and the client required the most efficient way to get it installed at its final destination. So, four years before the actual exchange they engaged Mammoet. The early involvement enabled us to deliver and execute a comprehensive plan that optimized the overall approach that identified and seized several time-saving opportunities.
Using their global network, resources, and longstanding expertise in factory-to-foundation projects. Mammoet orchestrated all transport modalities; barging, ocean transport, rail transport, jack & slide, and finally SPMT transport.
Mammoet ensured these modalities were well-aligned with one another in order to realize the most efficient logistics possible. To accommodate the transport of the vessel Mammoet designed shipping saddles that were optimal for ocean and rail. The saddles eliminated the need to re-secure the vessel at each transloading point. This helped save time and money and contributed to a safe journey for the vessel.
The original vessel, weighing 900,000lbs (appr. 410 metric tons) was located in a 70-meter-high building. For its exchange, the client had originally planned to dismantle a side of the building. Within their extensive array of cranes, Mammoet was able to provide an LR 11350 – with a boom length of 126 meters and maximum lifting capacity of up to 1,350 metric tons, the crane would be able to perform the exchange without the need to dismantle and reconstruct part of the building. This reduced expensive downtime and reconstruction costs.
Mammoet's comprehensive approach provided for a safe and efficient exchange of the reactor vessel, helping the customer to restart fertilizer production earlier than originally planned.