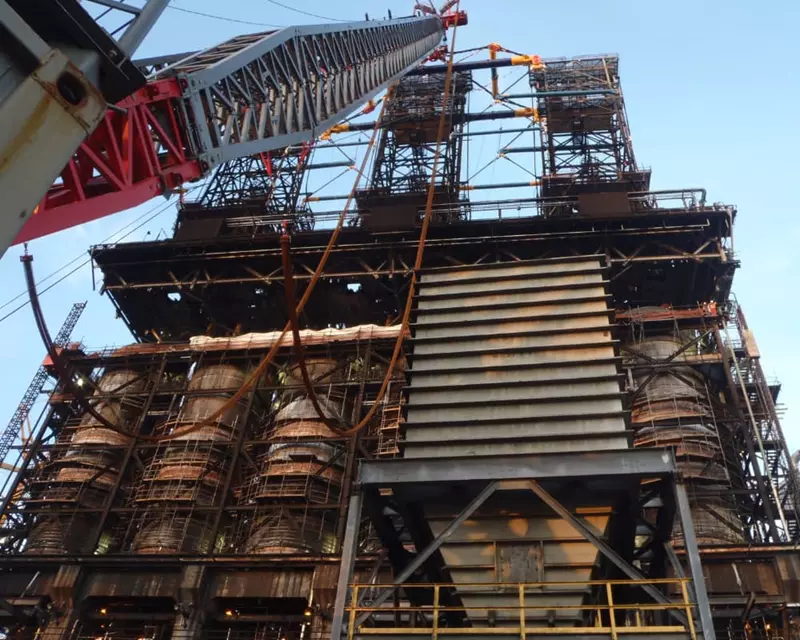 Expertise:
Crane lifting

Gantry lifting

Heavy transport
Benefits:
Reduced preparation

Optimized schedule

Increased safety
In the initial phase of the project, the SK190 was used to exchange coker drums, removing six old drums and replacing them with six new drums, weighing up to 471t each.
The crane first lifted a 1,400t derrick structure, which was positioned on top of the existing coker drums at a height of 100m, and set it on the ground. The coker drums were then exchanged, and the derrick structure was replaced.
The derrick lift performed by the SK190 was the first time a complete derrick assembly consisting of triple drill towers and a cutting deck had been removed and replaced in a single piece.
The lift required a complex tackle arrangement with a twelve-point pickup, made possible by the SK190 crane. To successfully complete the project without the need to shut down the coker, the SK190 was rigged outside the boundaries of the coker pit. This also enabled the completion of the project with no permanent equipment in the refinery having to be dismantled, and the coker pit wall did not have to be removed.
In addition to the SK190, Mammoet utilized an 850t tailing gantry and 60 axle lines of SPMT to complete the HCU installation. Mammoet also supplied all of the engineering calculations and related support.
The 4,300t-capacity SK190, which won the Innovation and Development Award for End Users at the 2010 ESTA Awards of Excellence, has a load moment of 190,000tm, a 141m main boom, and a 32.1m ballast radius, and also features a 600t quick winch system for lifting smaller items quickly.