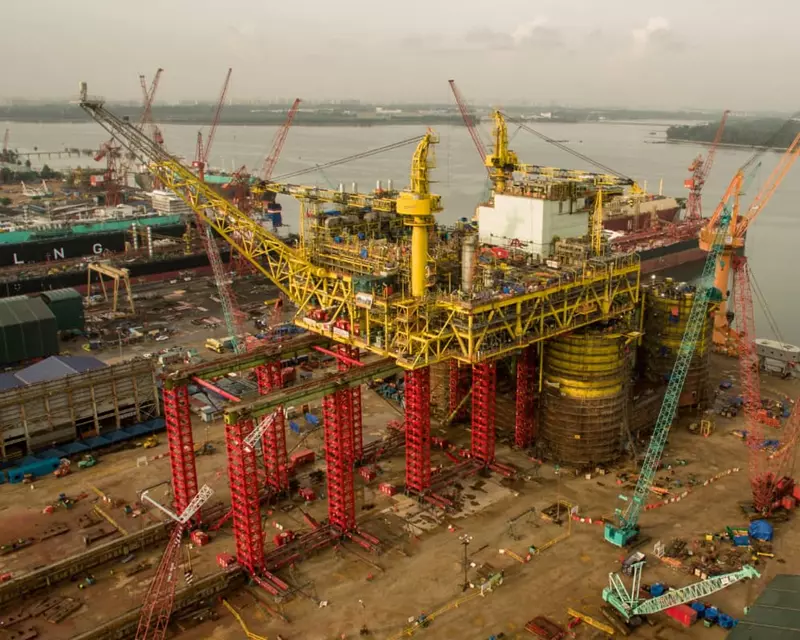 Expertise:
Skidding

Load-in & load-out

Jacking
Benefits:
Increased safety

Optimized schedule

Record breaker
Mammoet jacked up the Malikai topside 40m high, before skidding it a distance of 90m whilst at this elevation – making these the world's highest jack-up and skidding operations performed on this scale.
These operations were carried out whilst executing the Malikai EPC TLP Project at Malaysia Marine and Heavy Engineering (MMHE) West in Johor Darul Takzim, Malaysia.
Mammoet first weighed the topside using weighing cells. The topside weighed in at 13,800t and was skidded 90m onto Mammoet's Mega Jack using Mammoet's skidding system.
The Mega Jack jacked up the topside to a height of 40m – the world's highest-ever jack-up on this scale. When jacked-up, the topside weighed a combined total of 17,300t. The topside was skidded a distance of 90m at elevation until it was above the hull. Mammoet then mated the topside with the hull.
As both the Mega Jack and skidding systems are operated remotely via a control room and are equipped with computerized controls, which have numerous safety systems implemented, these provided a safe way of working and protecting both workers and the customer's equipment being lifted. Mammoet was also contracted to remove all equipment using 900t strand jacks (preinstalled onto the main deck of the topside), skidding equipment and SPMTs.
With its capacity to easily lift the topside to the desired height, the Mega Jack enabled the client to work on both the topside and the hull at ground level, therefore optimizing the logistics needed for such a build. Because the equipment is easy to mobilize and handle, Mammoet was able to install it within the deadline set by the client and despite the challenges Mammoet faced on-site, the super lift was completed without any delay to the project.
The final stage of the project involved the load-out of the tension leg platform (TLP).