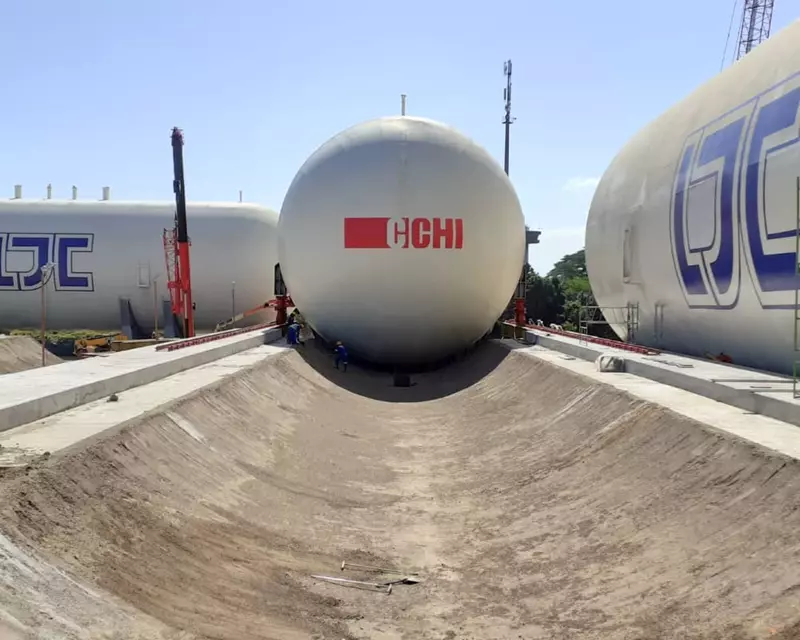 Expertise:
Heavy transport

Load-in & load-out
Benefits:
Reduced preparation

Reduced disruption
Around 75% of the electricity generated in South Africa is derived from the combustion of coal; in part due to insufficient storage facilities for cleaner alternatives such as LPG gas.
To help to diversify the country's energy resources, a new 22,600-tonne capacity site was built at the Port of Richards Bay, near Durban.
Mammoet was chosen to assist with the load-in, transportation and installation of numerous vessels. Its experience in maneuvering modules through congested oil and gas facilities was vital in negotiating a site featuring loose terrain, railway lines and various other storage equipment.
The LPG vessels were received following their over 8,000 nautical mile journey from China. All four vessels were positioned close to each other on the same ship, ready for ro-ro transportation onto dry land.
In conversation with the client, Mammoet elected to use two 2-file, 20-axle PSTs to load in the LPG vessels. This decision was taken to enhance the cost-effectiveness of the project, as PSTs could cover the required road, rail and gravel terrain while still maintaining a pace in line with the wider project schedule.
A few months prior to the move, Mammoet utilized its Route Survey Tool to analyze the many obstacles between the port and the installation location. This tool attaches to the roof of the survey vehicle, logging points of interest so that the ideal transportation route can be planned, and time outside the vehicle minimized, during execution.
Using this data, the 60m long LPG vessels were transported across a 3.1km route from the port to site. The chief obstacle in their path was the Richards Bay Coal Terminal railway lines.
The delivery trains traveling on these lines are essential to the operation of the Richards Bay Coal Terminal; any disruption to deliveries would have a severe impact on the export of coal.
To ensure smooth passage, the Mammoet crew attended induction training on-site at the terminal and worked in close contact with local traffic management staff to minimize disruption. Having crossed all rail lines, the LPG vessels arrived at their installation location.
Mammoet was able to mobilize equipment worldwide – in this case moving skidding equipment from Spain to South Africa – to allow transportation and installation to take place together. Four 500t skid shoes were used to move the vessels approximately 30m to their final positions.
This project will allow LPG to be imported into South Africa in much greater quantities, circumnavigating a low domestic supply and allowing the country to seriously consider more environmentally-friendly power generation. The facility is planned to be operational during 2020.