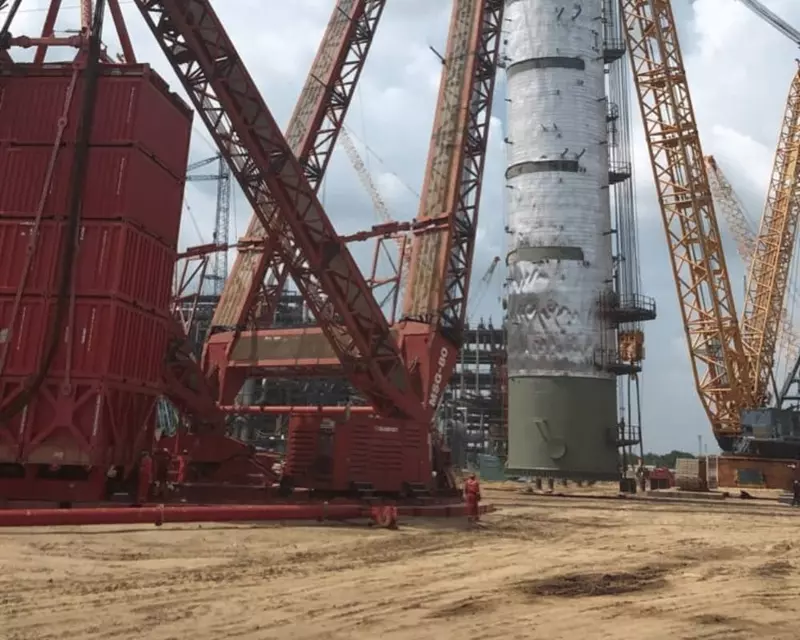 Expertise:
Heavy lifting

Crane lifting
Benefits:
Reduced preparation

Optimized schedule
The availability of an in-country MSG80 crane saved significant mobilization costs for client.
Mammoet completed the lifting of three columns for the Guru Gobind Singh Polymer Expansion Project in Bathinda, Punjab, India. The team lifted a 1,305t ethylene fractionator, and 2 propylene fractionators weighing 1,200t and 2,490t – the second of which was lifted in two sections
The MSG80 crane, which was locally available in India, was used for lifting these three columns via a total of four lift operations. In addition, the team worked in double shifts to move the crane to a new location for the customer.
The MSG80 ring crane's 3,000t lifting capacity and impressively small footprint for such a high load moment crane (34m diameter with 80,000 tonne-meters) made it ideal for the job. It made the project more convenient for the customer as heavy items could be fully dressed -eliminating the need for vertical assembly work on two of the units.
Work required was then significantly reduced for the third column, shortening the overall construction lead time. This in-country relocation of this MSG80 crane made the project more cost-effective compared to procuring a crane with the same capabilities from a location further away. It also saved valuable time, allowing our customer to meet their challenging schedule.
While the initial coronavirus breakout and crisis placed travel restrictions on the Mammoet crew, the team re-mobilized through special arrangements and took on the challenge to accelerate the completion of the installations. Expanded working hours were implemented to ensure that the crane could be disassembled and reassembled in good time. Lastly, Mammoet cooperated with the plant owner and their construction team to complete the lifts and demobilized them from the site within the allotted schedule.
The completed project is part of an expansion plan to build an integrated petrochemical manufacturing site within Guru Gobind Singh's current refinery complex. The refiner aims to increase India's refined hydrocarbon product capacity.