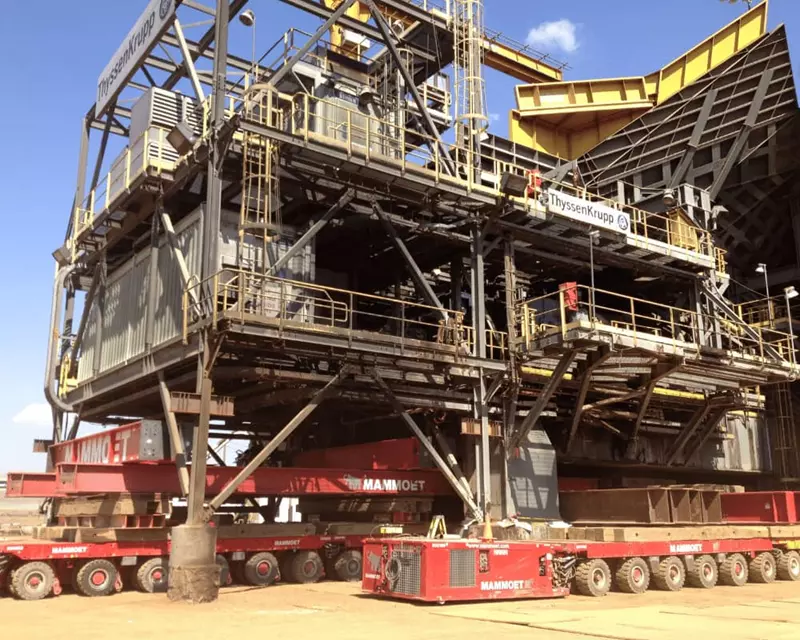 Benefits:
Reduced preparation

Reduced disruption

Protected infrastructure
How a unique jacking system saved at least $5,000,000.
The Aurora Mine in Alberta, Canada, is one of the largest integrated combined oil sand mining and refinery facilities in the world. Mammoet was asked to relocate two of its process trains, which meant moving the complete trains from the bottom of an open mine to their new location at the top.
The operation involved transporting loads in excess of 3,000 tons over two and a half kilometers up a 6.4% grade hill. Through the application of a range of tailor-made equipment and techniques, Mammoet completed the dangerous relocation without incident and five days ahead of schedule.
From the moment the power to the process train was turned off, the mine's output dropped and the clock began to tick. There were three active process trains in the mine, which meant Mammoet had to work amid the constant traffic of heavy haulers feeding raw oil sand into the other two trains.
The heaviest component was the Slurry Prep Facility (SPF), estimated to weigh in at around 3,300 tons. In total, Mammoet had to move approximately 20,000 tons of equipment up to the top of the mine via a steep and treacherous road in two phases of less than four weeks each.
As the mine was built on moving oil sand deposits, Mammoet tested ground compaction along the entire way before transporting any modules. Besides terrain stability, one of the main challenges was how to safely jack the SPF and support it while the SPMTs were rolled under it.
The concerns were not so much about weight as about structural integrity. Mammoet designed a unique jacking system that allowed the incremental jacking and support of the construction whilst maintaining a balanced weight distribution during each stage of the lift. The system jacked the 3,300-ton building four feet in the air and supported it for two days while 168 axle lines of SPMT were positioned underneath.
Each process train was moved in approximately four weeks without a single incident. Thanks to the success of the SPF jacking system and by moving multiple loads simultaneously, Mammoet shortened the overall schedule by five days. These time savings allowed re-commissioning works at the new location to start earlier than expected. The client estimated that each workday eliminated from the schedule represented a per-day savings of 1 million to 1.5 million dollars.