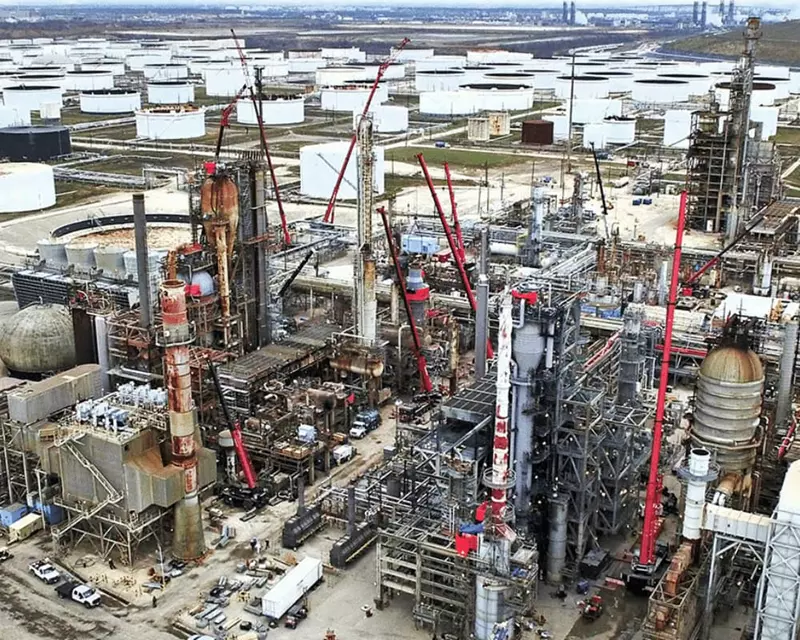 Expertise:
Heavy lifting

Crane lifting
Benefits:
Reduced preparation

Flexible operations

Optimized schedule
Local upscaling of global resources optimizes refinery maintenance.
The periodic maintenance shutdown of the Pasadena Refining System Inc. facility in Texas is essential for its safe and reliable operation. This 'turnaround' procedure normally requires at least six months to plan and assemble the necessary equipment and people.
Mammoet had just one month to prepare for the task. By deploying its dedicated rapid-response crane services and drawing on its international team of experts, Mammoet was ready and able to carry out a safe and effective turnaround with optimum speed.
Like all refineries, the Pasadena Refining System Inc. (PRSI) plant requires a regular turnaround to ensure it continues to operate safely and effectively. This time, the turnaround involved an exhaustive overhaul requiring thousands of components to be lifted, each weighing anywhere from 200 to 90,000 lbs.
With Mammoet's deep and longstanding expertise in plant turnarounds, they were able to streamline the task for optimum efficiency.
As not all required equipment could be sourced locally, Mammoet mobilized cranes from its extensive global pool of resources. Fourteen cranes were brought from Canada to take care of the heavy lifting. Around-the-clock support by expert engineers ensured every lift was carried out with consummate precision.
A 70-strong locally led team of specialists was assembled to take on the challenge. To ensure there were no hold-ups, technical staff were deployed on-site to troubleshoot any problems as soon as they arose. To guarantee the utmost safety, Mammoet brought in three supervisors per shift and two risk managers as well as an experienced engineer to plan every lift.
Mammoet developed an excellent working relationship with both the client and the site team and liaised with them to synchronize the work seamlessly with the activities of numerous subcontractors.
In total, the operation involved 35,000 man-hours of work – during which time there were no incidents, no injuries, and no equipment downtime. By drawing on global resources and scaling up to meet the needs of the turnaround, Mammoet enabled PRSI to continue production with the least possible disruption.