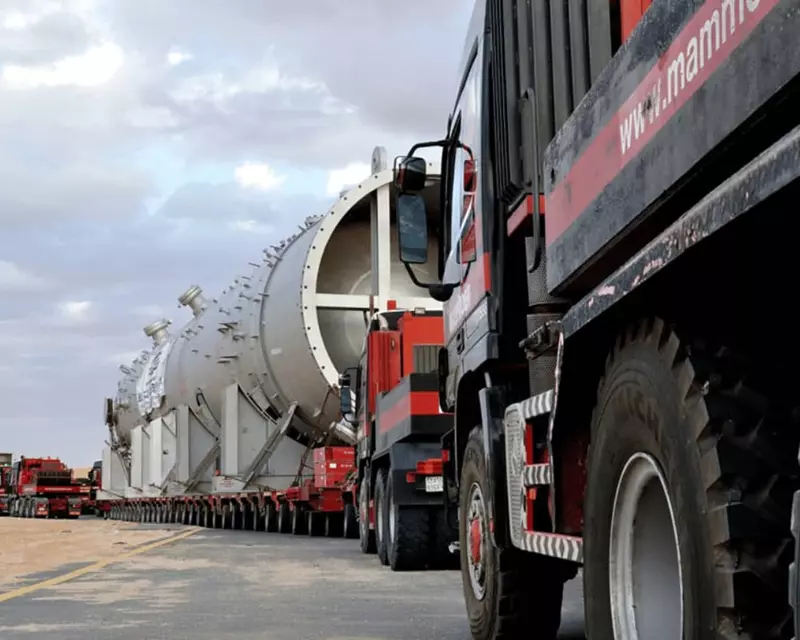 Expertise:
Project logistics

Crane lifting
Benefits:
Optimized schedule

Protected infrastructure
A 1,080-kilometer obstacle course under the desert sun.
Samsung Saudi Arabia needed to transport a 1,048-ton reactor from its factory in Damman to a petrochemical plant in Shaybah.
Mammoet was contracted to handle the treacherous 1,080-kilometer journey over steep desert hills and narrow winding roads. On a mission to make up for delays outside of Mammoet's control, the pressure was on from the start to deliver the reactor on schedule.

Delays in construction had put the transport behind schedule before it had even departed. Once Mammoet had picked up the reactor at the factory, the long journey through the scorching Rub' al Khali desert began. Already on a clock, the transport would have to deal with several obstacles on the way, such as low-hanging power lines and dunes with an incline of up to 8%.
To make matters even more challenging, there were no facilities whatsoever along the final 500 kilometers of the trip. This meant the transport had to be fully self-supporting for those final weeks.
The reactor was transported on two hydraulic trailers and ten prime movers. Each hill was a mission: going up with six trucks in front of the load and four behind, switching to six behind and four in front at the crest. The suspension of the trailers had to be adjusted continuously to ensure safe weight distribution. Fuel and water tankers, mobile accommodation, and a workshop made the Mammoet team completely self-supporting along the way.
The international team of eighteen successfully conquered many obstacles. Once on site, it took half a day to install the column using two heavy crawler cranes. The crew managed to finish the job before a sandstorm struck, avoiding further delays to the project. With the first reactor in place, the Mammoet team returned to Damman to pick up the second column and do it all over again.