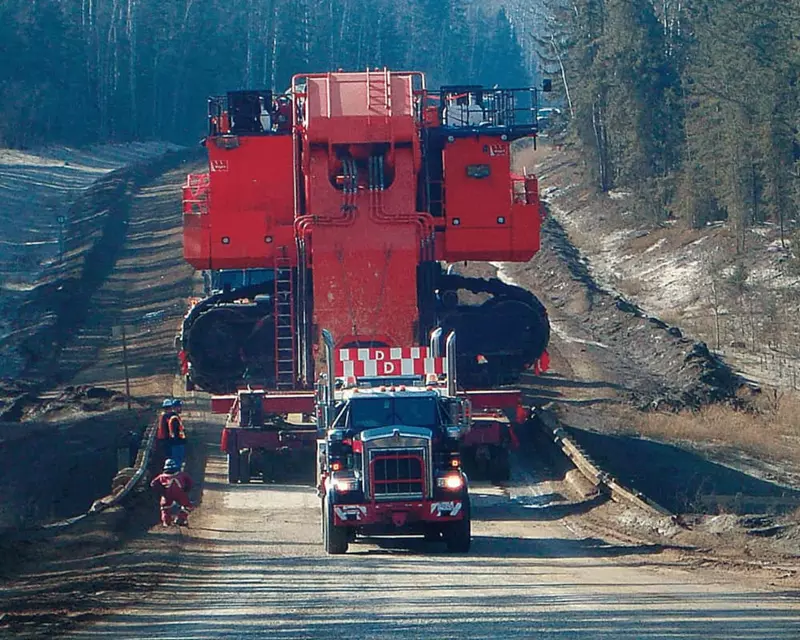 Benefits:
Reduced preparation

Reduced disruption
60% less downtime by bending the laws of physics.
Mammoet Canada West was hired to transport a large shovel from Syncrude Aurora to the Kearl Lake Oilsands Project.
The fifty-kilometer distance had to be traversed before local spring weight restrictions went into effect. By engineering an innovative way to transport the shovel in one piece, Mammoet got the job done within a short time frame. Mammoet not only saved the client time but a lot of money and hassle as well.
Traditionally, large shovels like the Hitachi EX5500 are transported in parts. This method requires a combination of cranes and trailers to break up, transport, and reconstruct the shovel, potentially leading to mechanical issues and hydraulic spills. It's also very time-consuming. To keep the shovel operation as close to the spring restrictions deadline as possible, the client wanted a solution that shortened the relocation schedule.
Mammoet suggested moving the shovel in one piece, but the EX5500's size-to-weight ratio posed a problem. The load's overall length was relatively short for its mass, making trailer length and deflection an issue. Mammoet had to find a way to transport the shovel to Kearl Lake in one go.
Mammoet found the answer in the shovel itself. The plan was to extend the boom and apply downward pressure further out on the trailer. Testing proved the boom to be capable of holding for a sustained period of time, and the client gave the approach a green light. By blocking the counterweight up underneath the back end, trailer deflection was greatly reduced.
Once Mammoet had designed the plan to transport the giant shovel without taking it apart first, the operation was completed without incident. The entire move was accomplished one day before road restrictions went into effect. More importantly, downtime was reduced by approximately 60%.
The Syncrude project demonstrates how non-traditional thinking can increase productivity and get any job done in time.