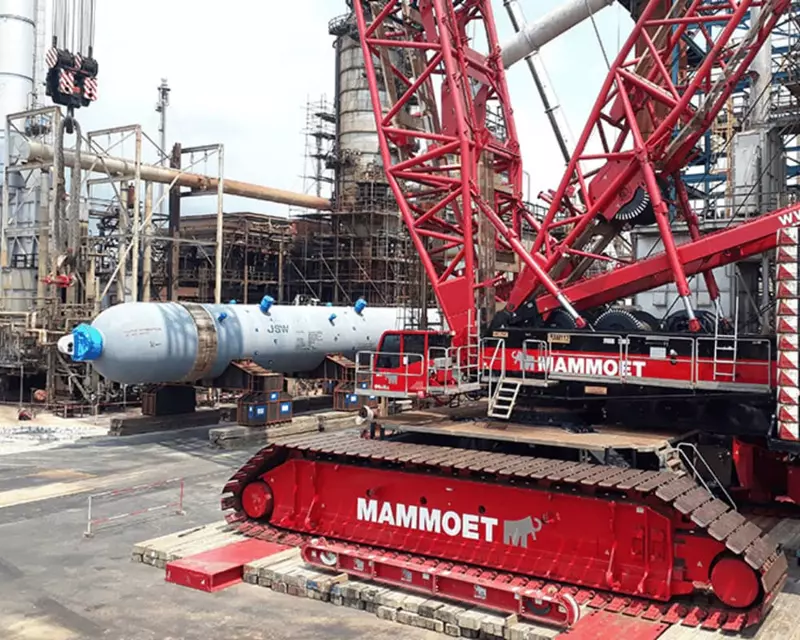 Expertise:
Load-in & load-out

Heavy transport

Crane lifting
Benefits:
Reduced disruption

Increased safety

Parallel operations
CLEVER TRANSPORT AND REPLACEMENT SOLUTIONS ENSURE IVORY COAST REFINERY RETURNS TO FULL CAPACITY.
After a fire damaged the main reactor at the Ivory Coast oil refinery of Société Ivoirienne de Raffinage (SIR), a replacement was ready to be installed. Restoring the refinery's production capacity was critical for the region's developing energy sector.
Having appointed Mammoet to install the original reactor in 1980, SIR trusted its expertise and turned to Mammoet for the second time.
With a suitable crane available locally in West Africa and an efficient and cost-effective transport and lifting plan in place, Mammoet optimized the overall installation schedule, saving time and money for the client.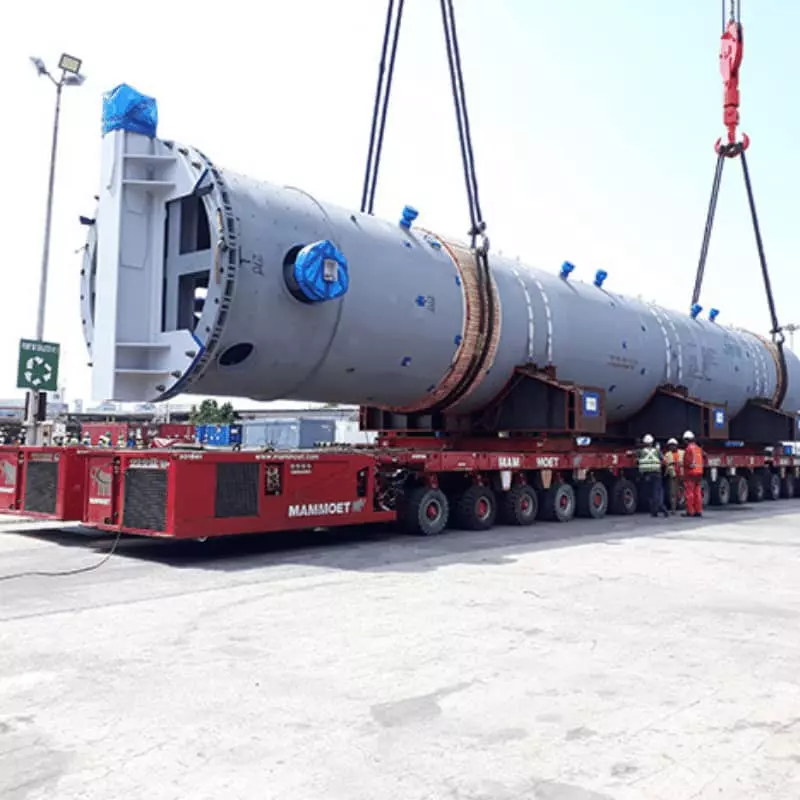 The new 400-ton reactor measured 30 meters long and 4 meters in diameter. Imported from Japan, it was due to arrive at the main commercial port in Abidjan. However, initial route surveys identified that the bridge between the port and the refinery didn't have the capacity to bear the load. The convoy would have to take a detour and travel a longer distance through the busy streets of Abidjan.
Following further detailed surveys to uncover the most efficient route, Mammoet in cooperation with SIR, located a private jetty closer to the refinery. Receiving cargo through the private jetty eliminated the need to cross the bridge, reducing travel time and disruption to the city.
At the jetty, 32 lines of SPMT were ready to receive the reactor. Following a smooth discharge, it was safely transported to the site overnight with minimum disruption to public roads.
The heavily congested site created significant space restraints for the installation. In particular, there was little room available for a second crane to perform the tail lift. Mammoet proposed installing the reactor using one crane assisted by a 600-ton tailing frame on SPMTs.
This overcame space constraints and saved the time and costs associated with mobilizing a second crane.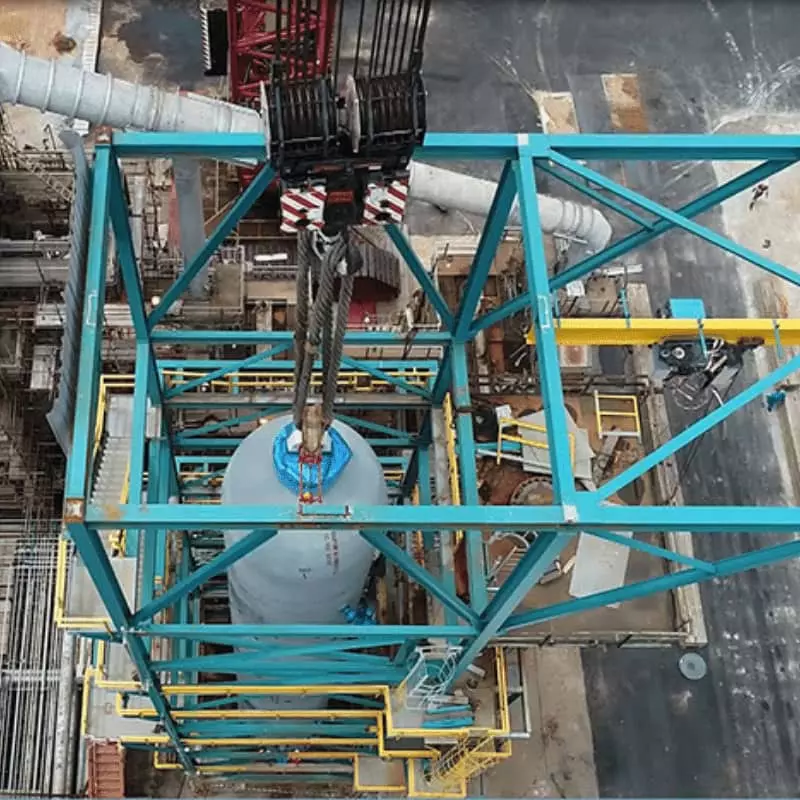 In addition, Mammoet already had the necessary 1250-ton capacity crane in West Africa. The project team could mobilize swiftly and have all required equipment ready to install the reactor on arrival, delivering even greater time-saving benefits.
Specialists were flown in from Mammoet Europe to ensure the correct shimming and alignment of the reactor to its foundation. On arrival at the site, it was installed safely that same day.
Mammoet's global presence, swift response, and flawless preparation streamlined the heavy lift and transport execution. The reactor was installed in the shortest time possible, enabling the largest oil refinery in French-speaking West Africa to return to full capacity.