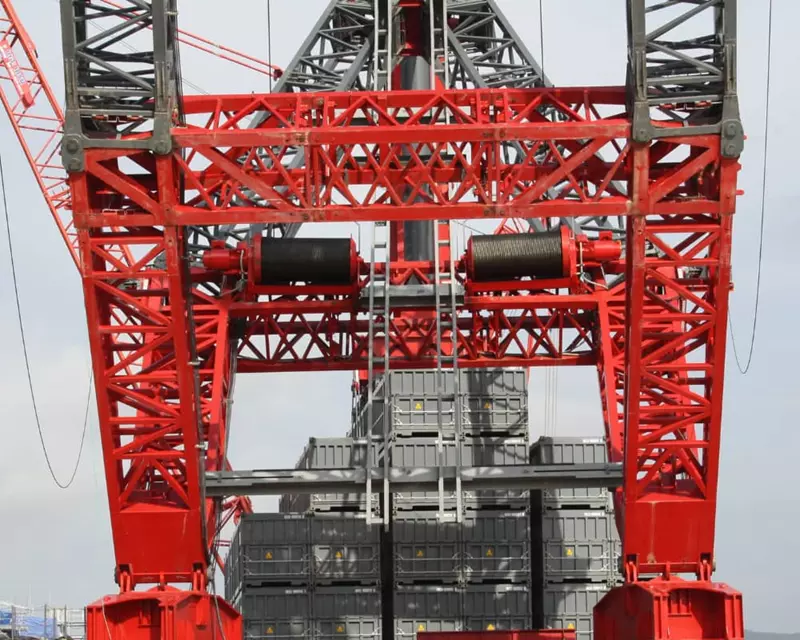 Expertise:
Heavy lifting

Crane lifting
Benefits:
Optimized schedule

Parallel operations
Mammoet completed a series of lifts as part of the Thai Growth Project in Map Ta Phut, Thailand. With weights ranging from 73t up to 813t, 25 items were transported, lifted and installed in just 22 days.
The project required the use of the SK190 crane. Part of Mammoet's fleet of the world's largest land-based cranes, the SK190 has a capacity of 4,300t, a load moment of 190,000tm, a 141m main boom, and a variable ballast radius.
The Thai Growth Project originally specified a large crawler crane from three positions, with the lifts taking place over a three-month period. However, the SK190's record-breaking capabilities reduced this to less than one month, achieving significant cost and schedule savings for the customer.
Due to its high outreach capacity, the SK190 was able to perform all required lifts from a single location, avoiding the expense and time associated with de-rigging, re-rigging, and relocating. Columns could be lifted over the new structure, enabling other structures and pipe racks to be installed ahead of schedule. The SK190 also required minimal ground preparation for the 25t/m2 loading under the mast foot and 20t/m2 under the ballast.
The 25 items lifted as part of the project weighed a combined 4,230t. Key installations included:
85m column with a total lift weight of 850t and an installation radius of 114.4m

75m column with a total lift weight of around 700t, which had an installation radius of 70.6m

50m column with a total lift weight of 250t and an installation radius of 110m
The project also made use of the SK190's unique quick winch system. Depending on reeving, the block speed goes up to 750m per hour. The winches are equipped with 2,500m of cable each, which means the fully reeved hook block can reach the ground with mast lengths of up to 200m.