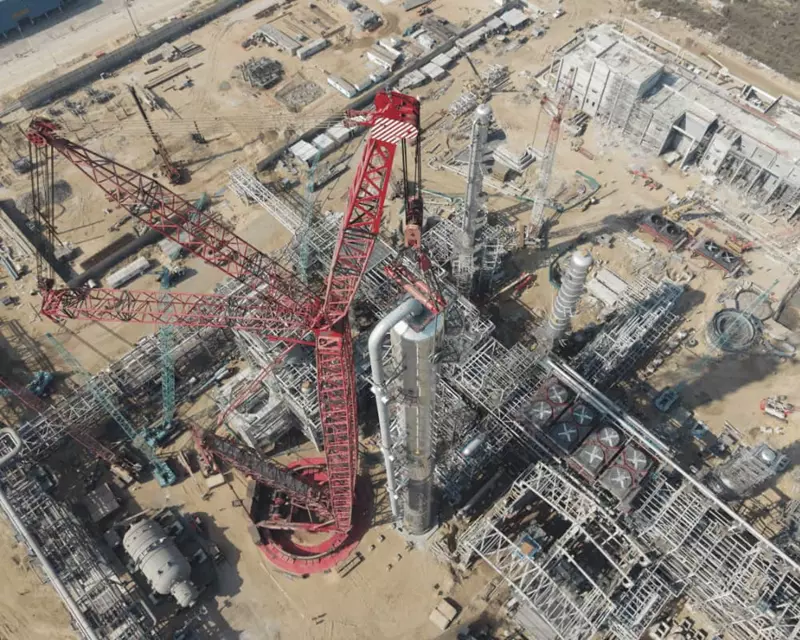 Expertise:
Heavy lifting

Crane lifting
Benefits:
Reduced preparation

Reduced disruption

Optimized schedule
All modules were lifted as a single piece with no change in each lifting position.
Mammoet completed a heavy lift project using its PT50 ring crane during an expansion project at India's Paradip Refinery. Opened in 2016, the refinery is India's most recent facility of its type.
For this project, a 646t De-ethylenizer, a 1,141t Wash Tower Column and a 1,185t Ethylene-Oxide Reactor needed to be lifted. Due to trust developed during a successful project back in 2019 which saw Mammoet lift five major refinery components for Visakh Refinery's modernization project, the company was selected for this heavy lift project at Paradip Refinery.
Mammoet's PT50 ring crane successfully lifted all three modules each as a single piece at 2 different locations. The use of another lower-capacity lifting equipment would have required each module to be split into two separate pieces. The use of the PT50 ring crane allowed installation lead time to be only two to three days instead of three weeks.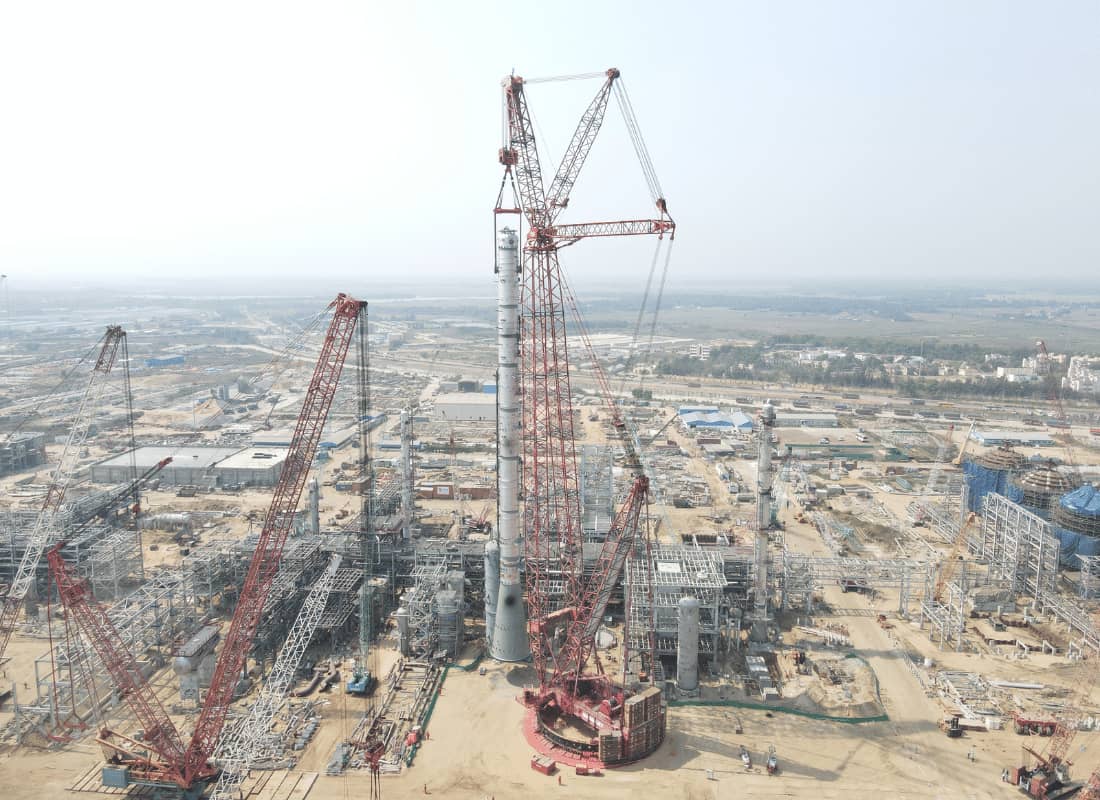 In addition, the ring crane's high load capacity allowed it to lift multiple heavy items each from a single lift position. Therefore, it did not need to be relocated between lifts - shortening the overall project schedule relative to the use of a smaller crane. Welding work was also not required by the team and this made the execution safer.
Scheduling changes were required due to regulatory measures brought in to combat coronavirus. The customer and Mammoet increased resourcing, with Mammoet's crew extending their duration of stay in India. This allowed the project to be completed in an acceptable timescale for the customer, despite these complications.
The use of this ring crane resulted in time and cost efficiencies for the client. There was also minimal use of on-site space - without compromising on safety. "The use of Mammoet's PT50 ring crane, over a crawler crane, allowed our components to be lifted each as a single module. This resulted in minimal disruption to our construction plans and brought about savings in our overall construction lead time," said L&T Hydrocarbon Engineering.
The expansion plan at Paradip Refinery is expected to be completed in October 2021. This will add a Monothylene Glycol plant to the facility, broadening the range of products it can produce.