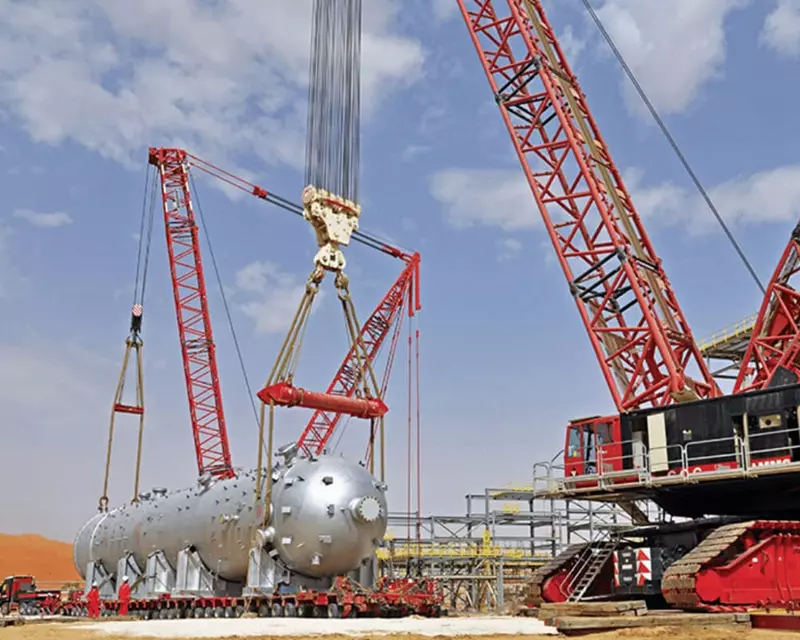 Expertise:
Heavy lifting

Heavy transport

Crane lifting
Samsung Engineering awarded heavy lifting and transport scope to Mammoet in Saudi Arabia.
The Aramco Hawiyah Unayzah Gas Reservoir Storage (HUGRS) project is located 260km east of Saudi Arabia's capital Riyadh. The plant comprises a gas injection facility with a capacity of 1,500 million standard cubic feet per day (mmscfd) as well as a withdrawal facility which is capable of processing up to 2,000 mmscfd of gas.
The project includes the construction of a gas injection facility with booster and injection compressors, a gas reproduction facility with reproduction compressors and slug catchers, as well as various utilities & offsite facilities.
South Korean Oil & Gas Company - Samsung Engineering - the appointed main engineering, procurement and construction (EPC) contractor, has awarded Mammoet's Saudi branch the transport and installation scope of the project. Over 60 components will be received either at King Fahad Industrial Port in Jubail or at a fabrication facility in Dammam and transported to the site for further installation. The heaviest components include four slug catchers, each weighing over 400t.
The scope includes associated port handling and customs clearance activities, obtaining required permits from the Royal Commission and the Ministry of Transport, along with close collaboration with Saudi Traffic Police to smoothly facilitate the project's transport phase. Over 200 lifts are expected to take place throughout the 17-month-long project.
Kevin O'Sullivan, General Manager Mammoet Saudi Arabia commented: "This contract award follows on from the successful delivery of other projects for Samsung Engineering in Saudi Arabia, such as the Shaybah petrochemical plant construction project and Jubail United Petrochemical Company's EO/EG plant. It was secured primarily on the back of the client's confidence in Mammoet's technical expertise, quality and safety standards and we are confident in the success of this project."
"Having been present in Saudi Arabia for over 45 years, we have a proven track record of executing projects of such scale in the Kingdom. Our local operation hub with an extensive local fleet and a dedicated local workforce in line with our commitment to Aramco's In-Kingdom Total Value Add Program (IKTVA) demonstrates this," he added.
The facility is expected to be completed in 2023 and will enable Saudi Aramco to efficiently manage surplus gas volumes to meet seasonal demand.