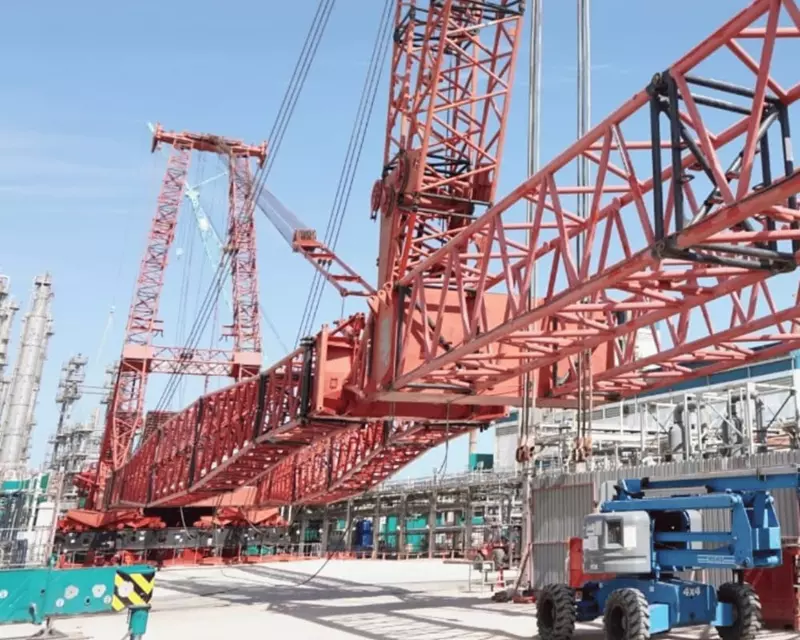 Expertise:
Heavy lifting

Heavy transport

Crane lifting
Benefits:
Reduced preparation

Optimized schedule
A smart approach and the right crane saved several days of project time.
Mammoet was hired by Toyo Engineering Korea on behalf of Bangkok Synthetics Co., Ltd (owner of the plant) to transport and install 24 items as part of the owner's project to expand their petrochemical production plant. The items included 9 long towers length up to 74m long and weighing up to 213 tons. All items need to be transported from a port to the plant located at Map Ta Phut Industrial Estate and installed onto foundations.
The normal commercial port to receive heavy and oversize cargo is located five kilometers from the construction site. Transport of heavy/oversize cargos from this port is only allowed on Saturday and Sunday and it would also require making three 90-degree turns, which would prove to be a challenge with regards to road safety and obstacles costs. As such, Mammoet reviewed the area and recommended the client to use the Maptaphut Industrial Terminal (MIT) port instead.
Mammoet had to demonstrate to the local authorities the advantages of using MIT port in order to get special approval for this port. This in fact resulted in a more efficient route reducing road safety challenges and required modifications to existing infrastructure. Furthermore, the Maptaphut Industrial Terminal (MIT) port is located only one kilometer from BST site, cutting half the time required for transportation. Transport from this port was also allowed on any day of the week and this was a major time-saving for the client because installation of the columns could be done on a daily basis.
Next, Mammoet assisted Toyo Engineering Korea with the installation of towers using the PTC35-DS crane (1600t capacity Ring Crane). This crane was chosen because of its large lifting capacity at a greater radius from one lifting position. Another alternative was to split the towers into 2 parts and lift them using a crawler crane which would be costly in ground preparation and welding works. The advantages of using Mammoet Ring Crane were time and cost savings for the client.
The combination of using Mammoet for transportation and installation was an added value for the client because Mammoet was able to look at an overall solution to ultimately save time, costs, and reduce road safety challenges on site.